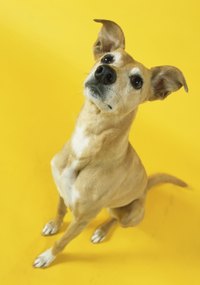 You can call it by its brand name, Zeniquin, or by its generic moniker, marbofloxacin, but it's the same thing: an antibiotic used to treat infections. It's an effective drug, however it's not the right choice for a growing puppy, as it carries a risk of injuring developing cartilage. If your vet prescribes Zeniquin, store it in a dark, dry place, away from excessive heat or moisture.
Zeniquin -- Also Known As Marbofloxacin
As a broad-spectrum antibiotic, Zeniquin, or marbofloxacin, is popular for fighting a host of bacterial infections. It is especially helpful to fight the bacteria known as Pseudomonas, common in canine ear infections, as well as Staphylococci, the cause of some skin infections. It's available in tablet format, in doses ranging between 25 mg and 200 mg.
Potential Side Effects and Toxicity
Marbofloxacin's potential side effects range from mild -- decreased appetite and activity level and vomiting -- to more serious reactions. The more serious side effects are less common, but if you're giving your dog Zeniquin, be aware they include depression, seizures, behavior changes and dizziness. Overdose of the drug can result in many of the same symptoms, as well as diarrhea. If your dog exhibits signs of side effects or overdose, discontinue the medication and contact your vet immediately.
Other Medications
Your vet should have your dog's medical history on file, however, it's wise to verify any medication your dog may be taking to ensure there won't be any reactions. Zeniquin can react with other medications, such as the airway dilator theophylline, oral cyclosporine and sucralfate, used to treat stomach ulcers. Other medications, such as mineral supplements, may need to have their dose timing adjusted so the drugs aren't administered together.
When to Avoid Zeniquin
Pregnant or lactating dogs shouldn't take Zeniquin, nor should a dog with epilepsy or other central nervous system conditions as it may prompt seizures. Marbofloxacin may cause bone and joint development problems in growing animals; small to medium sized dogs younger than 8 to 12 months old and large and giant breed dogs younger than 12 to 18 months old should avoid it. If you notice any allergic reactions to the drug, contact your vet immediately.