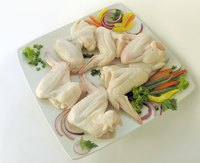 While chicken wings are often given as a treat, many dog owners prefer to feed a completely natural diet consisting mainly of raw chicken. This is based on the concept that a diet closer to that of a dog's evolutionary ancestors promotes good health and well-being.
Raw Feeding
Feeding raw chicken as a diet for dogs has been popularized since the 1980s by the BARF (Biologically Appropriate Raw Food) philosophy of Dr. Ian Billinghurst. His contention is that the diet that a dog has evolved to eat over many millions of years of evolution is the most appropriate one to feed today. The BARF diet is based on raw chicken wings, alongside other foods that mimic the contents of a dog's ancestral diet.
Chicken Wings
Raw chicken wings form the basis of this diet, although other parts of the carcass can be used. Wings contain high-quality protein and provide a good bone-to-flesh ratio. Coming from young birds, the bones are soft and easily digested. Generally, raw, meaty bones should make up around half the diet.
Other Ingredients
To provide a complete raw diet, other ingredients should be added to the daily ration. Veterinarian Tom Lansdale recommends whole fish and fish heads, offal (lungs, liver, hearts and tripe), table scraps and grated or liquidized vegetables. Fresh water should be constantly available.
Health Issues
Proponents of the BARF raw feeding philosophy report improvements in skin condition, healthy teeth and breath, low stool volume and odor and a healthy, lean body mass. Veterinarian Christopher Day advises that if a dog's teeth and jaws are not used properly, crunching bones alongside fruit and roots, it will be prone to digestive, dental and immune system problems.
Considerations
There is a risk of salmonella infection with using raw chicken, and owners should bear this in mind when preparing food. A preliminary study of dogs fed raw food diets, published by the Canadian Veterinary Medical Association, found that 30 percent of stool samples contained salmonella, which may be a hazard where young children are playing.