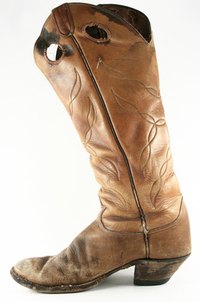 Newfangled devices help modern men and women do everything from chop nuts to trim nose hair. But not every useful device we use is modern. The boot jack is a prime example. Based on the number of antique boot jacks still around and the name of origin noted in the early 1700s, this "oldfangled" device has been helping people for some 300 years.
Purpose
Boot jacks help you take off a pair of boots without struggling, twisting or using your hands. They are especially ideal for a pair of muddy or dirty boots since you don't have to use your hands to pull off your filthy footwear. They are also incredibly useful for tall boots lacking zippers or laces that are otherwise difficult to wrench from your feet without someone helping you pull them off.
Use
You don't need to use your hands with a boot jack, but you do need to use both feet. Make sure the boot jack is facing the proper direction, with the U- or V-shaped cutout away from you. Put one foot on top of the boot jack to keep it in place. Place your other foot at the end facing away from you, inserting your heel into the cutout. Pull your leg out of the boot that has its heel in the cut out and the boot jack should keep the boot in place while you extract your foot.
Types
Boot jacks come in a number of different materials and styles. Wood is one of the most common materials, but boot jacks are also available in cast iron, steel or even plastic. Some boot jacks feature a plank supported by a bottom leg, much like a little ramp, with a U-shaped cutout on the top edge where you insert the heel of your boot and extract your leg. The forked limb boot jack looks like a forked stick, also with a bottom support, and you insert your heel into the V-shape of the stick. Still others have novelty shapes, like a beetle, a lobster or a pair of pistols lined up back-to-back.
Features
Boot jacks can be very simple or offer a number of additional features. Most are at least 6 inches long and about 4 inches wide at the widest point. Depths vary depending on the style. Traveling boot jacks are often made of lightweight but durable plastic with the ability to fold up to fit in a suitcase. Utilitarian boot jacks often include a rubber mat on the plank area where you can wipe the bottom of your boots before you take them off. Decorative boot jacks feature engravings, scrolls, brass plating and other ornamental designs.
Term Origin
Jack was a common 18th century name for boys who waited on their masters, according to Isaac Watts' 1724 book "Logic" and noted by the website Classic Encyclopedia. These boys would help their masters with everything from cooking to pulling off the masters' boots. When a device came along that pulled off the boots without the help of the boy, the name "Jack" stuck and the term "boot jack" was born.