Curious and sometimes mad, your 11-week-old baby has already developed quite a personality. She is no longer the fragile infant you can dress up like a doll or the docile baby you can pass from relative to relative with placid ease; she has preferences and a will of her own.
Facial Expression
He widens his eyes when he sees you. Your baby's facial expression brightens, his mouth opens and his cheeks rise in a happy smile when he sees a familiar face. Just as his face expresses joy and excitement, his expression can show displeasure or disinterest, as well. If he is resistant to changing activities or being picked up, he turns his head away from you and pushes out his lower lip. The vagaries of his personality and preferences are coming out in force. If your baby hasn't broken out with a dazzling smile yet, this is the time when that toothless grin emerges.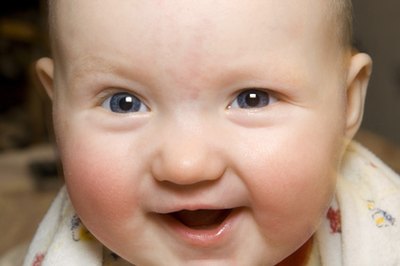 Wide Awake
Your eleven-week-old sleeps noticeably less than she did only a few weeks ago. As her waking hours increase, her alertness and engagement will keep you on your toes. It isn't sufficient to place her in the baby swing to nap, while you go about your chores. Because your 11-week old baby is sociable and alert, she will wave her arms and make noises if you leave the room, and follow your movements with her eyes, and even turn her head to watch you when you are nearby.
Hands and Fingers
He's figured out where his hands are and how to control them well. Don't be surprised to find your baby gazing at his irresistible chubby hands and waving them back and forth, transfixed by the sight. He can entertain himself with his hand movements but, more importantly, he is beginning to soothe himself by attempting to suck on his fingers.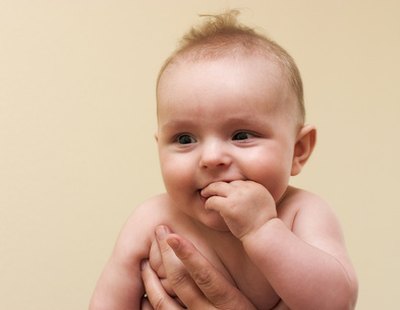 Heads Up
Week 11 of your baby's life brings with it the excitement of developing neck muscles--when you pick her up, she can hold her head steady for a minute or two. She can lift her head a bit while lying down. When you hold her in your lap and support her back, she can hold her head up on her own.
Noise Maker
Your baby's personality is bubbling to the surface and he wants your attention. He can make a variety of sounds at 11 weeks from the heart-melting coo to a gurgling growl-like laugh. The vowel combinations are emerging and your baby is full of "ah" and "oooh" sounds in response to something he likes, such as a song or colorful picture book he recognizes. He will make sounds imitative of the tone and pitch of your speech when you interact with him.