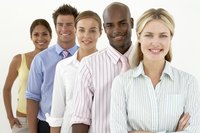 In 1969, American psychologist Clayton Alderfer developed his theory of needs and motivation. The three main terms are Existence, Relatedness and Growth. Hence, the theory became the ERG theory of needs and motivation. The basic theory is that people are motivated by a complex, but non-hierarchical, set of needs that usually can never be reduced to one.
Features
The three features for anyone's needs and motivations is reduced to first, existence; this refers to the basic needs that all people have in terms of health, safety and basic physical requirements. Next, relatedness, which is more complex, and refers to all social and interactive needs. Human beings are social and are motivated by the sense of team, social standing and esteem. Lastly, the factor of growth, where personal, professional and emotional development are themselves motivators for action.
Function
The real purpose here is to show the flexible and complex idea of human motivation. The three ingredients are not hierarchical and have a tendency to work independently. There is no reason to assume, in other words, that physical needs are the first set of needs that we must satisfy because they are the most basic. People sacrifice physical comfort for other things such as social rewards or challenges.
Significance
Needs, and hence motivation, is a complex interaction of three levels of being. These levels are always interacting and intermixing, and it is often difficult to separate one from another. The "Frustration Regression" principle refers the action of going from one level to another when you cannot reach the goals of a certain level. For example, if you cannot receive the personal growth from a job, one that is unrewarding and boring, then you can be motivated by the fact that it satisfies another level, such as personal relationships (good friends work there as well) or existence needs (the job has good benefits). This leads to a very usable and flexible set of motivators.
Benefits
In terms of analysis, this model can be used in numerous combination relative to the personality and situation of the person being analyzed. Its can make sense out of numerous personality types. In other words, this model takes into account those types of people who have no problem abandoning friends or even comfort for a job or project that will help them develop in their chosen field.
Effects
This model shows the human subject to be complex. A person who forgoes social prestige for a challenge can be seen as moving from one level to another. If a less challenging job has a great level of prestige, one who is looking for a challenge will leave the one prestigious job for the other. Without this model, the actions of such a person might make no sense. One leaves a high paying and prestigious job for one more obscure, but more interesting to the worker. This model can make sense out of it.