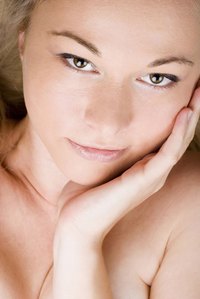 Many women who do not want to shave or wax unwanted hair above the lip, between brows, under the chin or on sideburns use facial hair removal cream. According to Skin Therapy Letter, these cosmetic creams can result in skin irritations and do not permanently remove hair. The removal process is relatively painless, however, and does not leave shadowing or stubble.
Function
Creams that remove hair, also called depilatories, contain chemicals to break the bonds that hold hair in place. Three to four minutes after direct application of hair removal cream to the area with unwanted hair, sodium thioglycolate or calcium thioglycolate in the cream breaks down hair proteins, making the hair so soft that it breaks when you wipe the cream away. According to eMedicine, this method of removing women's facial hair evolved from a 1930s patent awarded for the use of the same chemicals to remove hair from cattle hides. The products usually require a generous application and remove about 90 percent of the unwanted hair.
Cost and Availability
Most drug stores and grocery stores sell facial hair removal creams. You do not need a prescription to buy depilatories. In 2010, a 3 oz. bottle cost $5 to $10.
Texture and Odor
Most facial hair removal creams have an off-white or peach-colored appearance. Once applied, hair removal cream may look and feel like sun block. The cream remains on the skin's surface and is not absorbed. Many products have a moderately unpleasant chemical or burning odor.
Benefits
Facial hair removal creams are effective for women with thick, dark or excessive amounts of hair on such areas of the face as the upper lip and between the eyebrows. According to FamilyDoctor.org, high levels of male hormones can cause excessive hair growth in women. Tumors, certain medical conditions and some medications can also cause facial hair growth.
Considerations
Facial hair removal creams specifically target hair on the face. Skin in the facial area is more sensitive than skin in other parts of the body. Products intended for use on the face usually contain fewer harsh chemicals and more moisturizers than hair removal creams meant for the arms, legs or chest.
Warning
Most product directions warn users not to leave the cream on for more than 10 minutes. The chemicals that break the hair can also burn the skin if left in direct contact for an excessive period of time. FamilyDoctor.org advises women to test the cream on a less sensitive part of the body, such as the wrist, before applying it to the face. Hair removal cream is not intended for ingestion and should not come in contact with the eyes.