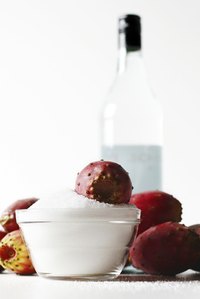 Candida yeast infections are extremely common. Also known as candidiasis, symptoms can range from oral or vaginal thrush to a systemic yeast infection that may affect the whole body. Yeast infections are caused by yeasts of the Candida family, although Candida Albicans is the most common. Candidiasis is caused by an over-proliferation of Candida yeasts, and while it is widely reported that dietary sugars exacerbate candida overgrowth, there exists some confusion over the effects of sugar substitutes on candida yeasts.
Candida Yeasts
Candida yeast is found in the gastro-intestinal tracts of most people, and can exist quite happily as part of the gut flora causing no symptoms at all. However, lowered immunity, antibiotics or other conditions can cause imbalance in the digestive flora and allow Candida yeasts to proliferate. Candida overgrowth leads to a systemic infection and a whole host of unpleasant symptoms, ranging from (but not limited to) bowel dysfunction, skin rashes, urinary infections and general malaise. Since yeast feeds on sugar, sugar consumption is discouraged in those suffering from candidiasis.
Fruit Sugars
There are many different types of sugar substitute available, but data pertaining to their interactions with candida yeasts is sometimes contra-indicative. Many health practitioners simply advise candida sufferers to avoid anything that tastes sweet. This most certainly includes sweet fresh and dried fruits, which are very high in natural fruit sugars and provide excellent food for candida yeasts. Anti-candida diets invariably forbid the consumption of sweet fruits and even sweet vegetables, such as carrots and parsnips.
Aspatarme
Aspartame is an artificial sweetener found in many soft drinks, but there is a great deal of controversy about its overall safety. Aspartame is synthesized from three chemicals: aspartic acid, phenylalanine and methanol. Aspartame breaks down into its constituent parts once consumed, and all three chemical components have been reported to create negative health effects. In terms of candida, such chemicals may compromise the body's immunity, thereby raising susceptibility to candida overgrowth. Methanol is a potent alcohol, and apart from many other health implications, alcohol encourages candida overgrowth.
Sugar Alcohols
There are many other sweeteners that are derived from plant-extracted sugar alcohols. These include mannitol, xylitol, sorbitol, erythritol and maltitol. It is not yet clear how all of these substances interact with candida within the body. Xylitol is commercially produced by the interaction of candida yeasts on plant sugars, and some reports show that xylitol (used extensively in chewing gums and mouthwash, since it does not encourage tooth decay) actually exhibits an antifungal effect.
Stevia Rebaudiana
Many natural health practitioners recommend the herb stevia rebaudiana (often shortened to "stevia" or "sweetleaf") as the only "safe" sugar substitute for candida sufferers, although xylitol is also cautiously approved. Stevia has a negligible effect on blood glucose levels and a calorific value of zero. It has been used as a sweetener in South America for hundreds of years, and Stevioside, which is a commercial sweetener derived from stevia, is widely used in Asia and South America.