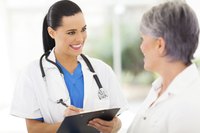 Pharmanex, the company that manufactures Metabotrim, says its supplement contains vitamins and minerals that will help you lose weight by increasing your body's ability to metabolize fat. Because Metabotrim is a dietary supplement, it isn't regulated by the Food and Drug Administration, and the claims about its effectiveness haven't been verified with objective scientific research. It's also not clear what specific side effects Metabotrim may cause, although many of its ingredients are associated with certain symptoms. Talk to your doctor before using Metabotrim; avoid it completely if you're pregnant, nursing or have a chronic medical condition like diabetes.
Side Effects of Niacin
A 1-capsule serving of Metabotrim contains 10 milligrams of niacin in the form of niacinamide. The average adult needs between 14 and 16 milligrams of niacin each day. If you take Metabotrim as directed -- one capsule twice daily -- your niacinamide consumption will exceed this amount and increase the likelihood that you'll go over the tolerable upper intake level, or UL, of 35 milligrams per day advised for adults. Supplementation with niacinamide may cause side effects like dizziness or fainting, diarrhea, an upset stomach, nausea, headache and itchy skin. It may also cause flushing, a condition in which your skin develops a tingling, unusually warm sensation, and fluctuations in your blood sugar level. In addition, the product might interact harmfully with alcohol and with drugs like statins or fibrates.
Side Effects of Chromium
Your body needs the mineral chromium to aid insulin in regulating blood sugar levels. Men between 19 and 50 years old need approximately 35 micrograms of chromium each day, while women of the same age should have around 25 micrograms daily. A typical day of Metabotrim would supply 200 micrograms of chromium. At this level, supplemental chromium might make it more difficult for insulin to work properly and may cause itchy skin and stomach problems. It could also exacerbate the symptoms of mental problems like depression or schizophrenia. If you're allergic to leather, avoid Metabotrim -- individuals with leather allergies are often allergic to chromium, too. Chromium also interacts with numerous medications.
Side Effects of the B Vitamins
In addition to niacin, Metabotrim also contains over 100 percent of an adult's recommended daily allowance of vitamins B-6 and B-12. These B vitamins are included in the supplement because they play an essential role in the breakdown of proteins, carbohydrates and fats. The University of Maryland Medical Center, however, cautions that regularly taking large amounts of only some of the B family of vitamins can cause you to develop an imbalance in the others. These include thiamine, riboflavin, folic acid and biotin, B vitamins that Metabotrim lacks.
Side Effects of Carnitine
Metabotrim contains 100 milligrams of carnitine, a compound active in fat metabolism, per capsule. Supplementing with carnitine may cause abdominal pain and cramping, nausea, vomiting, diarrhea and headaches. It might also increase your blood pressure. Less common side effects of carnitine include an abnormally fast heart rate, dizziness, swelling and a tingling sensation in the hands and feet, depression, changes in vision, fever and an unusual body odor. In rare instances, carnitine supplementation can result in seizures and may increase the frequency and severity of the episodes in people already diagnosed with a seizure disorder.