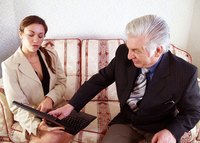 Direct sales companies have been around for many years. Some companies have started off having one or two products and over time grew to having hundreds of products. Some have linked in several partner stores making virtually anything you can think of available to end consumers. There are limitless options available to someone looking to start a new business opportunity with a growing direct sales company.
Benefits to the Sales Person
In a direct sales market, the sales person, or distributor, can buy the product or products at wholesale price. The sales person also makes profit on retail sales to customers. Another option in many direct sales companies is the ability to recruit or enlist other sales people to work with you (leaving you responsible for their training) in their own business. This can increase overall business production through you increasing your own profits.
Benefits to the Company
The company manufacturing the products saves money in direct sales. Most manufacturers rely on TV and radio advertisements to sell products. Companies that rely on direct sales use word of mouth sales through distributors, or independent business owners, to sell product. The company also saves money by not needing a distribution chain to keep up with inventory requirements to retail outlets. Oftentimes direct sales companies will deliver the product to the distributor or customer directly.
Benefits to the Consumer
Many direct sales companies offer unconditional money back guarantees, allowing the consumer to try it without risk. Prices are lower even when paying full retail because of money the company has saved in advertising and distribution. Many companies will offer free shipping to consumers with a minimum purchase. Customers always have the opportunity to become distributors and pay wholesale prices for products.
Potential
Some direct sales opportunities have the potential of making thousands or millions of dollars. Hard work will be involved in building a successful business. Deciding to build a direct sales business is buying into a franchise model, the more franchises you have the bigger your opportunity. Profit from retail sales is a must in any successful business, having the right products to market will boost your sales numbers and profitability.
Warning
Choose your direct sales company carefully. Many companies don't have what is needed to maintain growth for the long haul. The same rules apply to start up direct sales companies as any other start up company, and most of these fail in the first two years. People will try to discourage you, work with your upline to keep moving forward. Watch out for deals that are too good to be true, they probably are.