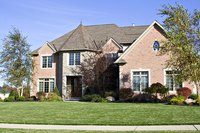 Accountants typically treat mortgages as long-term debt when preparing financial reports. Accounting for mortgages is a business practice that allows an investor, a corporation or a property owner to gauge changes in asset values based on economic trends. Accountants also need to compute property taxes payable to federal and state authorities.
Mortgage Accounting
Mortgage accounting rules require a property owner or an investor to record mortgage amounts at current value on the purchase date and interest expenses when they are due. For example, a corporation buys a new piece of land valued at $1 million and borrows from a bank to finance the purchase. The firm's accountant debits land (asset account) for $1 million and credits mortgage payable (debt) for the same account. Assuming interest expense is $50,000 at the end of the year, the accountant will debit interest expense for $50,000 and credit cash for the same amount.
Property Tax Accounting
Generally accepted accounting principles (GAAP) require an investor to record property taxes when they become due. For example, property taxes due to federal and local revenue agencies at the end of the year amount to $10,000 payable before March 15. The firm's mortgage accountant debits tax expense for $10,000 and credits property taxes payable for the same amount. On March 10, the firm sends a check to the government. The accountant then credits property taxes payable (to bring the liability back to zero) and credits cash for $10,000.
Time Frame
The Internal Revenue Service (IRS) and state or local fiscal authorities require a property owner to compute and pay real-estate taxes on a quarterly or annual basis. Some municipalities may require an owner to make monthly payments when he sends a check to his mortgage lender. As an illustration, the mortgage accountant may advise senior management to pay the $10,000 annual tax expense over a 12-month period.
Significance
A corporation's top leadership or an investor needs to properly account for mortgage debt because it usually involves substantial amounts and a small error may result in big losses. For instance, if a junior mortgage accountant makes an error when recording interest payment due, the mistake may affect subsequent payments and ultimately mortgage balances. This is due to the fact that a lender prepares a mortgage payment worksheet, or installment payment sheet, on the date the loan is approved.
Misconceptions
Although GAAP allow a corporation or an investor to "depreciate" property such as machines or equipment, the same is not true for a real-estate property such as land or a house. ("Depreciation" is a business practice that spreads the cost of an asset over several years.) Consequently a firm does not depreciate a house or land even if the property loses value.