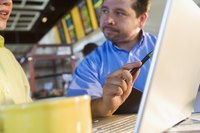 A leader's listening deficit can derail his career and possibly his company. After all, building the business relationships needed to achieve sales, revenue growth and other business objectives requires more than Facebook postings and the occasional Tweet. These relationships with customers, suppliers and other stakeholders require dedicated one-on-one time that provides opportunities for genuine communication. In turn, communication requires that participants listen to one another, noting what is said and the way it is said, as well as the speaker's body language. Accomplishing this goal can enhance your expertise, build your business, expand your market and increase your revenue.
Enhance Company Expertise
To benefit from the opportunities of the global economy and its operating environment, a company must possess an expertise that is of interest to its company's stakeholders. A company can acquire and enhance that expertise by encouraging employees to be social and listen to stakeholders' comments. By using dashboards and websites and other tools, employees can listen to communication channels and apply and share what they learn in their work environment. Doing so ensures employees have an opportunity to base decisions on current information gained from those with an interest in the business by customer service, production and other departments. For example, logistics personnel might learn and share essential differences in operating a supply chain in South America, rather than North America.
Build the Business
A business can't be built without constructing strong relationships, but strong relationships require genuine listening. A willingness to listen grants personnel access to information about new markets, opportunities to brainstorm about a new product offering and entree to reliable suppliers and exceptional employees, each of which is essential when building a business. All it takes is a recognition of how listening might support individual business areas. For example, while customer service representatives may converse one on one with customers to understand their requests and concerns to best ensure continued sales, digital marketers may engage electronically with social influencers to gain their support for various products.
Expand the Market
Listening to business conversations enables employees to learn a variety of things, such as regulations and statutes that govern the import of products their employer sells in new target markets. Listening also provides a public relations department insight into how the public views a company, which will determine if the department issues press announcements for purposes of damage control or in support of a product launch. Listening serves other marketing purposes, including confirming the degree to which an advertisement conveys a company's message, the effectiveness of its execution and the perceived truthfulness of the message. By listening to existing customers, a company can determine if the customers are happy with its products to the degree necessary to support expansion of a target market.
Increase Revenue
By using a variety of platforms, from Facebook to Twitter, a company can listen to comments and engage its customers and create a positive experience, which may grow revenue. When a company monitors various communication channels and listens to particular conversation patterns, it has an opportunity to respond almost immediately in ways to increase revenue. For example, a company can respond to what appears to be a new business opportunity, react to particular comments to retain long-term customers or reply to customers seeking additional value by accelerating the time to market of relevant product offerings. Customer comments can be monitored across channels, including customer self-service portals, call centers and mobile apps.