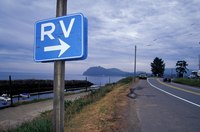 Aerodynamic design and ultralight weight make Aerolite travel trailers easy on fuel consumption and easy to pull with smaller SUVs. They are available in lengths ranging from 18 to 38 feet long; some models fit size restrictions in heavily treed National Forest Campgrounds and still hook up easily to RV park amenities. The fully self-contained trailers even let you camp far out in the backcountry while providing convenience of electricity, running water and a flush toilet. Aerolite trailers provide upgraded comfort in the interior design that are steps above basic camping trailers, while maintaining a price point on the lower end of the luxury market.
The Aerolite Difference
Aerolite trailers re-create the comfort of home with spacious interiors and upgraded decor in a range of basic floor plans. The crowned ceilings give 6 feet and 10 inches of head room for a feeling of openness in limited space. Laminate wood flooring stands up to kids and pets, and carpeted areas add a homey feel. Upgraded fabrics such as leather pull off a feeling of at-home comfort. Wide aisles, large windows and angled counter-tops make the most of the space, and fight that cramped feeling when the whole family is indoors.
Lighten the Load
Aluminum construction keeps the Aerolite to as little as 3,100 pounds, with many models suitable to pull with mini-vans and light-duty SUVs. Hard-sided models come with or without slideouts. King-sized beds in most models sit at the front of the trailer. Floor plans range from the basic 205KB which has a convertible dinette for an extra sleeper to the 319BHSS which has two extra bunks, two fold-out sofas and a convertible dinette to sleep larger families. Expandable trailers have tent-beds on either end with kitchen and bath in the main body of the trailer.
Standard Features
Aerolites include modern conveniences for indoor-outdoor living in all of their models. In addition to the interior full kitchen, many models include a pull-out two-burner cooktop outside as well. Outside speakers let you listen to your tunes or TV show under the awning, and your trailer includes TV antennas and satellite hookup. The large, frameless windows have safety glass and dark tint to keep out the sun's glare. Large pass-through compartments at the front of the trailer make it easy to store skis, fishing poles and other sporting items.
Add More Extras
Choose additional upgrades that suit your budget and camping needs. Basic upgrades include 29-inch or 32-inch flat screen TVs, a U-shaped dinette, and one or two air conditioning units for your trailer. Power tongue jacks help level the trailer without onerous cranking, and power awnings get your outdoor area shaded with the push of a button. A heated enclosed underbelly puts a barrier between you and the chill of the earth, and keeps your stored items from freezing during winter camping conditions. .