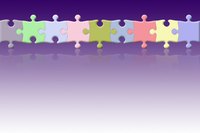 Human resources provides a number of essential functions that keeps a company's workforce operating at maximum potential. Training is an important part of HR's job, because it gives employees the tools they need to make the right decisions. Diversity training is an excellent example of this. Diverse workforces are an asset to companies, and diversity training, provided by HR, ensures that all workers appreciate other workers' strengths and talents instead of focusing solely on their differences.
Diversity Definition
R. Wayne Mondy, in "Human Resource Management," defines diversity as any perceived difference among people, be it age, race, religion, functional specialty, profession, sexual orientation, geographic origin, lifestyle, tenure with the organization or position. Diversity management means ensuring that factors are in place to provide for and encourage the continued development of a diverse workforce, by combining actual and perceived differences to make a stronger workforce.
Future of Diversity
There is no doubt that workforces are growing more diverse every year, which is why it is important for companies to be prepared and train their workers. According to the U.S. Department of Labor, the number of Asian workers in the U.S. will increase by 44 percent from 2005 to 2010, while Hispanic workers will increase by 36 percent and African-American workers will increase by 20.7 percent. More women are expected to enter the workforce as well, and they already hold the majority of jobs. Workers 55 years and older will also likely increase by 50 percent by 2012, as baby boomers continue to age. Therefore, it is easy to see that workforces are continuing to evolve and become more diverse.
Potential Problems
Although diversity is beneficial for companies, as it brings new ideas and perspectives to brainstorming sessions and can help organizations to avoid becoming stuck in their cultures, that does not mean there aren't problems. Oftentimes, people are wary or mistrustful of those who are different, and may rely on hurtful stereotypes. People may also belittle other workers, believing that their minority status, not their skills, got them their jobs. All of this can lead to tension and friction on the job that prevents collaboration and successful teamwork.
The Role of Diversity Training
Diversity training is a useful tool for heading off such problems. According to Mondy, it attempts to develop sensitivity among employees about the unique challenges that face minority workers and women, and create a more harmonious working environment by fostering cooperation and understanding. Approximately two-thirds of American companies offer diversity training.
Successful Tactics
Successful diversity training should provide solid information about other people's backgrounds and experiences, as knowledge will replace fear, ignorance and stereotypes. It should also encourage employees to focus on their commonality and take advantage of one another's different skills and perspectives to do a more effective job.