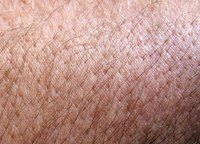 Estradiol is a form of the female hormone estrogen, an important regulator of many processes in the human body. It can be used as treatment for a number of medical conditions, including vaginal dryness and irritation, treating menopause symptoms and preventing osteoporosis. Estradiol may also be used to treat some cancers. Like most drugs, estradiol can cause some side effects, including unusual hair growth.
Function
According to Endocrine Reviews, estrogens influence the rate of skin cell division in humans and animals. They also control the size and activity of the sebaceous glands, oil-producing glands in the hair follicle. Estrogens, such as estradiol, are also responsible for controlling levels of other hormones which affect hair growth, including the amount of testosterone in the hair follicle.
Types
Estradiol-based medical treatments come in several different types, which can affect hair growth in different ways. For instance, according to Drugs.com, Estradiol Valerate, Estradiol Cypionate and Estradiol Acetate may cause hair to grow in new places, or it may cause hair thinning or loss. Extradiol/Norethindrone can cause hair loss, but it tends to be mild. Topical applications of estradiol can cause hair loss on and around the site of treatment.
Considerations
While estradiol treatments can cause unwanted hair loss in women taking them for menopause and similar conditions, they can actually stop hair loss in other women. According to the American Hair Loss Association, hormone replacement therapy is a common systemic treatment for women suffering from androgenic, or male-hormone, hair loss. These women have low levels of progesterone and estrogen, or too-high levels of male hormones, and suffer thinning and baldness due to this imbalance.
Expert Insight
According to AJP--Endocrinology and Metabolism, estradiol inhibits hair growth in mice when applied to the skin, even in very low doses. The hormone prevents the hair follicle from moving to the resting phase to the growth phase. Other steroids used in this study resulted in much lower levels of growth inhibition.
Warning
Hair loss or unusual hair growth is an annoying, but essentially harmless, side effect of estradiol. Women taking this drug should contact their doctors immediately if their side effects also include swelling of the mouth, tongue or face, lumps in the breast, speech or vision changes, severe headache, or vomiting. Serious reactions to estradiol are rare, but can be very dangerous.