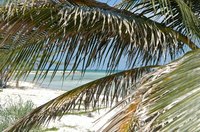 Bahama fashion is often viewed by outsiders and visitors as tropical and exotic with influences from the generations of former slaves that lived there blended in with elements of Great Britain and its various territories. Bahama residents, as with many other tropical island dwellers, have a tendency to dress for both function and style, and the influences of local and seasonal fashion designers has woven its way through the attire of native Bahamians.
History
The Lucayan Indians, who were the first known Bahamians before Christopher Columbus' 1492 arrival, wore little more than loincloths. Subsequent fashions were influenced by the weather and the need to fish, and consisted of materials found on lost or wrecked ships. When piracy was banned and the islands became independent from Britain, Bahama's fashions developed into the wrap dresses, sarongs, and cargo pants and shorts that are seen today.
Identification
Many of the native fashions seen on any of the Bahamas' 700-plus islands are a reflection of the economy and geography. The tourism industry plays a major role in Bahamian life, and much of the clothing that is made locally or featured in island boutiques is tailored to promote a casual seafaring lifestyle.
Function
Summer wear is obviously going to be lighter fare than winter and spring attire, with shorts for men and shorts, skirts or sarongs for women. During the cooler months, layers of a shirt and sweater or windbreaker are the norm. Sandals and slip-on loafers are commonly seen around the islands. Staying comfortable in the tropical climate is the goal of most clothing found on the islands and worn by the locals.
Batik Fashions
The Androsia Batik factory on Andros Island makes hand-printed fabrics using wax to prevent dye from penetrating select areas on the fabric. The patterns found on hand-batiked fashions represent the way the sandy islands contrast with the blue Caribbean and Atlantic waters.
Fun Facts
Designer Diane von Furstenberg has a part-time home in the Bahamas. Tommy Bahama actually is a Seattle-based company. The oldest fashion retailer in the islands is Cole's of Nassau, established in 1956. The Bahamas host two annual fashion weeks: the Islands of the World Fashion Week in the fall and Bahama Fashion Week in July.