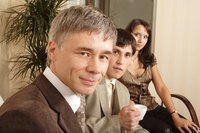 Generational diversity training is a relatively new concept, because generational diversity in the workplace is a relatively new phenomena. Historically, only two generations worked together, with older employees retiring as younger ones entered the workforce. Now, many people of retirement age are working longer or even returning to the workforce, and it's common for three or even four generations to work side by side. The differences between the generations can create tension and misunderstandings, though, and that's why many companies are turning to generational diversity training.
The Generation Gap
People within a generation are influenced by many of the same trends and events. They were raised with different, sometimes opposing values and world views than the generations preceding and following them, and these differences frequently influence the way they approach work, relationships and life. A study called "A Portrait of Generation Next," conducted by The Pew Research Center, highlights some of these differences. The youngest generation, for example, is more likely to say that trends like automation and outsourcing have helped, rather than hurt, American workers
The Four Generations
The Traditionalists or Veterans, born between 1922 and 1945, were heavily influenced by The Great Depression and World War II. Baby Boomers, born between 1946 and 1964, were influenced by the Vietnam War and the assassinations of leaders like John F. Kennedy and Martin Luther King, Jr. Generation X spans roughly 1965 and 1980, and is known as the first generation of "latchkey kids." Many of them grew up as the children of divorce and had mothers who worked outside the home. The youngest generation, Generation Y or the Millenials, were born between 1981 and 2000, grew up using the Internet and other technologies and were shaped by events like the 2001 terrorist attacks.
How Generational Diversity Training Works
Employers hire a consultant to conduct on-site training including customized programs, or they purchase training materials, such as DVDs, books or even games. Generational diversity training focuses on identifying the key differences between the generations, including their major influences and their differing approaches to work and life. Training programs seek ways to bridge these gaps, and find commonalities between the groups so they can communicate and collaborate more effectively.
International consulting company Deloitte, for example, uses generational differences to its advantage, as profiled in an article by Garry Krantz for the April 2008 issue of "Workforce Management." Deloitte created a team of researchers who studied generational differences among employees. The information gathered helped managers adapt the way they coached and communicated with employees.
Ways to Use Diversity Training
Some employers include generational diversity training in the training in the orientation process for new employees, while others hold training on a regular schedule, say yearly, for the entire company or by department. Before you initiate training, it may help to informally survey employees about their thoughts on the different generations within the company and how well they work together. With this information, you can create programs relevant for your team.
Benefits of Generational Diversity Training
Employees may not realize the biases or prejudices they have against their younger or older coworkers, and may not understand how their behavior affects other generations. Something meant as a joke, such as an "over the hill" birthday party, can offend employees over 50, as human resources expert Liz Ryan advised in her Jan. 10, 2008 "Businessweek" column, Diversity: Beyond a Numbers Game. Through diversity training, employees can identify any faulty assumptions they have about other generations, and the subtle ways they may inadvertently offend people of other ages. They can also learn how to accept their differences and develop an appreciation for what each generation contributes to the company. Building trust is a key component of the training, which can create a stronger and more unified team, and a more productive business.