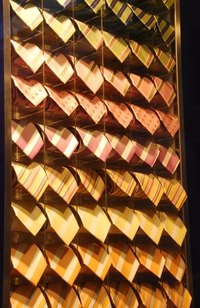 Inventory tracking is one of the most important aspects of running a retail business. To perform at their best, retail businesses must have accurate knowledge of how much stock they have in a store and what is happening to that stock. Through analysis of information provided by inventory tracking, retail companies make decisions about ordering that enhance sales and the customer experience.
Purpose
In a retail store, inventory refers to the store's merchandise stocks, or the goods that will be sold. Retail companies use an inventory tracking system to see what merchandise is in stock, what is on order, when it will arrive and what has been sold. By tracking its inventory, a retail company can quickly identify fast- and slow-moving items and deal with them accordingly by re-ordering the product, decreasing the product price or promoting the product. Tracking inventory also allows retailers to plan purchases intelligently based on the same information.
Tracking Systems
Items are added to inventory when they enter the store, through the process of receiving. Inventory leaves the store when it is sold or when unsold quantities are returned. Inventory tracking software can keep track of all of these things and even make purchasing suggestions based on things such as daily sales through the cash register. A common type of inventory tracking software system called a point-of-sale (POS) system records each sale when it happens. The retailer then runs reports based on the information. The analysis of sales data and maintaining of sales histories with POS systems lets the retailer adjust purchasing decisions both for items and for seasonal trends.
Significance
The consequences of not tracking inventory are easy to imagine. For example, if an item moves off the shelf quickly, the item is popular and stock will quickly become depleted. If it has not been reordered in sufficient quantities in a timely fashion, it will not be there when the customer wants it. By the time it arrives, the customer may have bought it elsewhere, which is the loss of an individual sale. Just as important, the customer's experience has been impacted.
Considerations
For inventory tracking to work properly, retail companies must address the problem of inventory inaccuracy. Discrepancies between the inventory that is showing as present in the computer system and the actual inventory of the store can occur due to errors at the inbound point of adding items to inventory or the outbound point of the cash register, or can be due to theft, among other possibilities.
Solution
To ensure that inventory levels are accurate, companies either perform cycle counting or a complete count of inventory. A complete count is a count of all the items in the inventory location, usually once per year. Cycle counting is an ongoing partial count of the inventory of a location. Cycle counting is the preferred method, ensuring a minimum of 97 percent inventory accuracy, according to Venture Line.