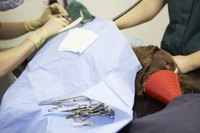 Your dog seemed just fine. Then, after a brief run or a leap off the sofa, he yelps in pain and carries a hind leg. It's possible he's ruptured his cruciate ligament, which stabilizes his knee. Your vet will make a diagnosis via physical examination and X-rays. Make a decision regarding cruciate ligament repair based on veterinary advice, your dog's size and age, lifestyle and your finances. Cruciate repair surgery is expensive -- starting at about $2,000 for the simplest surgery and going up from there --, but most dogs have a good prognosis.
The Cruciate Ligament
Your dog's cruciate ligaments -- the anterior and the posterior -- lie within his knees. The two ligaments form a cross pattern and connect his tibia and femur. They keep the tibia in place, preventing severe extension or torsion. Besides limping, symptoms of crucial ligament rupture include joint swelling and crackling noises when the animal walks. While any dog can tear his cruciate ligament, it's more common in older, overweight, large breed canines. Labrador retrievers and Newfoundlands might be genetically prone to cruciate ligament rupture.
Conservative Treatment
You might opt for conservative treatment, based on your dog's condition or your financial situation. However, conservative treatment usually is recommended for smaller dogs, those weighing 25 pounds or less. It's not curative, as the knee isn't stabilized. Your vet will prescribe pain medication, usually nonsteroidal anti-inflammatories. She'll likely advise rest and recommend a physical therapist to work with your dog. If your dog is overweight, your vet can put your dog on a diet so he'll experience less stress on his joints. While your dog might feel better with conservative treatment, he probably won't return to his preinjury activity level.
Surgical Options
Various surgical options exist to stabilize the knee joint. You and your vet can discuss which type of surgery best suits your dog. "Extra-capsular suture stabilization" involves placing a heavy suture outside the joint. Eventually, scar tissue forms and stabilizes the knee. This type of surgery primarily benefits older, small canines. "Tibial plateau leveling osteotomy" involves cutting the bones and stabilizing them via plates and screws. "Tibial tuberosity advancement" is similar to tibial plateau leveling osteotomy, with a different cut made in the tibia. These surgeries are used for larger, younger and more active dogs.
Postoperative Care and Recuperation
After your dog's surgery, he still has a long road to recovery. If your pet doesn't receive proper aftercare and rehabilitation, he might experience complications and even require subsequent surgery. For at least the initial two weeks after the operation, his activity is severely restricted. Although he gradually can resume normal activities, expect recuperation to take at least eight weeks post-surgery. If he's overweight, your vet will recommend a diet. She'll also recommend a physical therapist so you can get him started on balance and range-of-motion exercises.