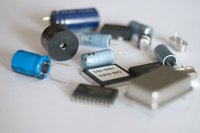 A parts sales manager is in charge of managing her parts inventory and selling it. Her customers may be in the wholesale or retail sectors or be a combination of the two. She may manage and sell parts for one manufacturer or for many companies.
Skill Requirements
Inventory control skills are needed to perform this job. Conducting regularly scheduled manual inventories, as well as periodic cycle counts, is a large part of the manager's responsibilities. Expertise in computerized inventory management software is usually required of a parts sales manager. He must be adept at adjusting pricing to maximize profits while still appealing to the budgets of his customers. Skills in negotiating bulk discounts are required.
A part sales manager is typically expected to expedite excess inventory through advertising and promotion to established and potential customers. Managing a staff of parts clerks is normally required in this position. Good customer-service skills are needed to attract and retain customers.
Duties
Stocking parts that are regularly needed by the largest customer base is the main duty of a parts sales manager. To maintain her company's profit margins, she's expected to keep apprised of competitors' pricing and availability and make her inventory more desirable in one or both of these categories. She's required to regularly identify slow-moving or obsolete parts and purge them from her inventory by returning them to the manufacturer or selling them in lots to parts discounters.
Work Conditions
This job may be performed in a warehouse or retail environment. The former normally requires business-casual attire; the latter commonly involves wearing a company-provided uniform. Hours are normally standard business hours, with the exception of evening or weekend work that's usually required for cycle counts.
Educational Requirements
A significant number of employers prefer parts sales managers who have a bachelor's degree in sales, marketing or management, although some will accept a number of years working in parts management or sales in lieu of a degree. Knowledge of manual and computerized inventory-management systems is preferred. Certifications from professional inventory-control organizations are often considered assets for applicants.
Salary and Advancement Opportunities
In some companies, a parts sales manager may obtain a salary increase if he absorbs the duties of the service manager and performs both jobs simultaneously. In retail environments, a parts sales manager may advance to store manager or general manager positions. According to PayScale.com, the annual pay range for a parts sales manager in the United States as of June 2010 was $32,540 to $55,969, depending on the economic conditions of the geographic area and the experience level of the job applicant.