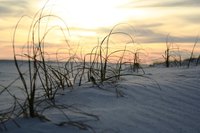 Just south of the border, 70 miles below Yuma, Arizona, El Golfo RV Resort sits at the edge of the brilliant blue waters of the Sea of Cortez in the Mexican state of Sonora. If you like an expansive beach with wonderful views, interesting sand dunes and an RV park with many amenities, you'll love this RV resort on the Gulf of Santa Clara. Be aware, however, that you must have a reservation and that membership in Colorado River Adventures allows you to be first in line for openings.
Campground Amenities
Each of the 140 RV sites have full-hookups, and big rigs are welcome. El Golfo RV Resort can accommodate RVs up to 55 feet in length. All sites are located on the beach, but beachfront sites are reserved for members. Go for a swim in the ocean or swimming pool and then relax at the poolside cabana, restaurant and cantina. Enjoy social activities at the clubhouse, or just relax there while watching the big screen television. Other on-site facilities include a convenience store, guest laundry, bathhouse, playgrounds, miniature golf course and an outdoor amphitheater.

The Rewards of Membership
Reservations are required at this park; drive-ups are not accepted. El Golfo is owned and operated by the Colorado River Adventures (CRA), Lake Havasu City, Arizona. Members are given first preference for bookings. All holidays and holiday weekends are reserved exclusively for CRA members. Many members spend the entire winter season at El Golfo. Inquiries for membership, rates and reservations may be made by calling 928-854-7865.
Activities Outside the Park
Most of the areas around the RV park are still undeveloped, so one of the activities enjoyed by many is ATV (all terrain vehicle) riding. These vehicles are allowed on the beach and into the surrounding desert. Scuba diving and snorkeling is popular at a nearby seven-mile sandstone reef, where many species of fish may be seen bottom-feeding. Explore abandoned salt mines; visit shrimp farms; take a guided fishing trip; take a tour of the large and interesting sand dunes; and bird watch on the beaches and in the protected Biosphere Reserve of the Upper Californian Gulf and the Colorado River Delta.

The Town of El Golfo, Mexico
This is a small, undeveloped town where fishing is the major livelihood. Small stores and family-owned restaurants and taco stands line the dirt streets. Enjoy the most of what the sleepy town has to offer by visiting the little produce, meat and fish markets. Order local fish and shrimp at the small restaurants. Enjoy authentic Mexican tacos at the roadside taco stands. Return the smiles of the friendly Mexican people.
Wildlife
The areas around this part of the Sea of Cortez are filled with diverse species of wildlife. Dolphins, sea lions and sometimes, whales can often be observed from the beaches. There are habitats of marshland, fresh water, coastal and desert areas. Birds that you may see there include white and brown pelicans, seagulls, fishing eagles, sea quails, ducks and geese, terns, cormorants, egrets, herons, grebes, kingfishers, and curlews. Many other resident and migratory birds frequent this area.