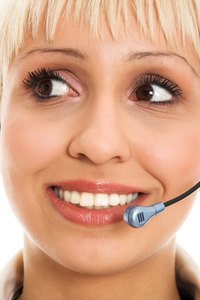 B2B means business to business. In other words, one company or organization sells its goods or services to other companies or organizations rather than to an end-user or consumer. When dealing with a large entity, it's sometimes hard to figure out what constitutes good customer relations. Nonetheless, when you don't provide effective customer service promptly, eventually that impacts your bottom line in terms of lost opportunities and clients.
Response Time
Respond to your client quickly and accurately. This builds trust. Remember that even a business is made up of individuals, all of whom value their time. Each time you make a corporation wait, offer inaccurate resolutions, or have slow response times, you're tainting the corporate image and potentially driving customers away.
Provide fast, hassle-free service and knowledge, and use the tools at your disposal effectively. For example, the recommended turn-around time for email inquiries is no more than 24 hours. This shows strong professional commitment.
Communication
No matter the industry, solid B2B communication sustains the business relationship. Give your customer a variety of ways to communicate with you or your staff, including video conferencing, email, and phone and cell phone methods. Make sure that the customer immediately gets to the right support staff for the question or problem at hand. Solving problems and closing deals in a timely manner improves customer retention.
Offer Viable Alternatives
Even the most diligent business to business dealings can go awry. Be it small or large, the best attitude is "How can we fix it?" This isn't the time for placing blame. Listen to the customer, remembering that they're paying you for guidance. Make certain that they understand the suggested solutions, and be ready to implement them once you obtain proper approvals. When a client contacts you, you have an opportunity to resolve an issue by using solid customer service skills and keeping that client happy.
Respect and Thank your Customers
The businesses with whom you liaise deserve respect. They, like you, try to focus on quality goods or services for that specific industry. Letting your client know that you appreciate them, and the knowledge base they represent, builds the lines of communication. Manners and politeness count. When your customer goes above and beyond to accommodate a difficult situation, or refers other potential businesses to your firm, you know that you're doing a good job in handling customer relations. Just remember to thank them.
For example, you have to move back a deadline due to an internal glitch. The customer says, "No problem, you've never let us down." Give that customer a discount for the delay, or offer an hour of free service in the future. This type of response on your part encourages customer longevity. Business to business customer relationships still value a personal touch.
Cost Savings
Provide your customers with ideas on how to save time or money. Every company wants to take some pressure off the bottom line. Become a trusted voice in this process and you'll obtain even more business. Make the other company an active partner in this effort. Listen to their input too.
As that new business comes along, pace yourself. Endeavor to always meet or exceed customers' expectations. Remember good customer relationships in the business to business setting are all about building long-term commitments. If that company thrives, your company thrives.