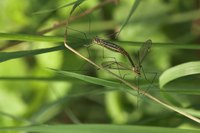 Permethrin is a chemical that is toxic to mosquitoes and ticks, making it useful in the fight against malaria and other vector-borne diseases. Permethrin has been used by branches of the U.S. armed forces to protect soldiers fighting in tropical zones where malaria poses a risk. Travelers heading to rural areas of tropical countries such as Cambodia and Panama frequently treat their clothes with permethrin in advance of their trip, soaking clothing, mosquito net and kerchiefs in a permethrin solution. Other permethrin treatments are available.
Spraying
Prepare your clothes several days in advance of your trip departure date. Lay clothing flat in a well-ventilated, breeze-free area of your yard or driveway, or hang on hangers from a clothesline. One standard 6 oz. bottle should treat two complete sets of clothes. Spray each side of your garment for 30 seconds, holding bottle upright and 6 to 8 inches away. Use even strokes. Focus on flaps, zippers and collars where insects would enter. Allow to dry for two to four hours.
Soaking
Wear new gloves. Fill bucket with permethrin-water mixture according to instructions on the package; if you don't have a bucket, use your bathtub, but be sure to rinse thoroughly when finished, and open doors and windows so that ventilation occurs at all phases of treatment. Immerse clothes completely in solution and allow to soak for about five minutes, or as directed by the package. Remove clothing from the solution and squeeze out excess water. Hang to dry in a well-ventilated location until completely dry.
Packing
When packing permethrin-treated clothes for your trip, place treated clothes in sealed bags to separate them from other garments. This will help you ensure that you are aware of which clothes have been treated when you arrive at your destination. In this way you can properly select which clothes to wear at what time, and you can also be confident that when you want to avoid wearing clothes containing permethrin residue--such as if you are visiting the home of a stranger who may have cats or aquatic animals--you can do so.
Benefits
Clothes treated with permethrin prevent mosquitoes from biting. In addition, permethrin reinforces clothes so that even if holes exist, the mosquitoes will not enter. Generally permethrin effects last through two launderings.
Risks
Permethrin should not come in contact with the skin, so be sure to wear gloves when handling spray bottles or when soaking clothing or nets. Never apply directly to the skin. Permethrin is toxic to cats and aquatic species, so avoid its use in areas where residue may pose a threat to either.