Take measures to minimize your dog's exposure to roach poison in your home, other homes or hotels. The good news is that most concentrations are too low for your dog to be dangerous -- some roach poisons are even used in canine flea and tick products. Nonetheless, monitor your dog carefully for symptoms of toxicity, particularly if she is very young, old, pregnant or used for breeding. Many roach poison ingredients act on the nervous system, so watch for tremors and other loss of muscle control and call your vet or pet poison control center immediately.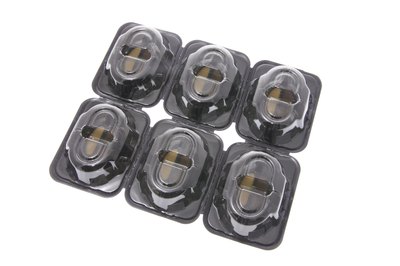 Beware the Trap
Roach poison ingredients are not your only concern; some roach "hotels," traps or trays use peanut butter or other pup-appealing agents to lure roaches to their death. Unfortunately, your dog may view it as an appealing toy, challenging her to get a hidden sweet treat. The poison is typically secondary to complications from chewing the trap material, such as a piece of plastic lodged in her throat. If you must use these traps, place them well out of your dog's reach. If your dog finds it anyway and you notice pieces missing, consult your veterinarian for advice.
Roach Poisons Your Dog May Be Using
Several active ingredients in roach poison are used in canine flea and tick medications, including fipronil, indoxacarb, permethrin and two neonicotinoids: imidacloprid and dinotefuran. Fipronil is classified as a cancer-causing agent by the Environmental Protection Agency. Neonicotinoids can cause reproductive issues in dogs used for breeding, and dinotefuran can irritate your dog's eyes. All work on the pests' nervous systems. Some dogs may be more sensitive to these ingredients than others, so contact your veterinarian if you notice any unusual behaviors, adverse symptoms or skin irritation.
Avermectin
Avermectin -- also known as abamectin -- is made from soil bacteria and is extremely toxic in concentrations much higher than what you'll find in roach poisons, but don't assume he won't have any adverse reactions. If you know your dog has ingested any, watch for dilated pupils, tremors, fatigue and loss of appetite and contact your veterinarian immediately. Your pregnant dog may give birth to stillborn puppies, or some with developmental issues. Fortunately, your dog should excrete most of the poison within 48 hours in his feces.
Borac Acid
Most dogs won't experience any negative side effects from boric acid, which occurs naturally in nature, but some may be sensitive to it, particularly very young and very old dogs. Watch for fever and gastrointestinal disturbances, excessive thirst, lack of appetite and a general feeling of malaise. Contact your veterinarian if you notice any of these symptoms. Your dog's skin may become irritated if she comes in contact with boric acid. It can negatively impact breeding ability. Developing fetuses may have a low birth weight.
Diatomaceous Earth
Diatomaceous earth is like walking on broken glass to roaches, made possible by the crushed fossilized skeletons of aquatic organisms. These sharp fossils cut a waxy coating that protects roaches, leading to death by dehydration. As long as food grade diatomaceous earth is used for roach control with no added roach poisons, your dog should be fine whether he eats it or touches it; however, the diatomaceous earth used in pool filters may sicken your dog. Contact your veterinarian if your dog gets irritated skin or ingests diatomaceous earth, particularly if it's not food-grade quality.