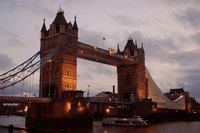 London's Tower Bridge is a combination bascule roadway and suspension bridge that crosses the River Thames by the Tower of London, from which the bridge takes its name. The bascules are lifted regularly to allow ships and boats with tall masts to pass beneath the bridge. The iconic bridge is one of London's best-known sights.
Construction
Tower Bridge was built between 1886 and 1894. It was painted a chocolate brown color, but was repainted red, white and blue to mark Queen Elizabeth's Silver Jubilee in 1977. The bascules were originally powered by steam, but since 1976 oil and electricity are used. The two 140-feet high steel walkways were designed to allow pedestrians to cross the bridge while the bascules were raised, but were closed in 1910 for lack of use. They are now accessed by visitors to the Tower Bridge Exhibition
Tower Bridge Exhibition
The permanent Tower Bridge Exhibition was opened in 1982. It presents the story of the bridge's history and construction, as well as visits to the high-level walkways and the Victorian Steam Engine Rooms. Since 1994, Tower Bridge could be rented for private parties, receptions and even weddings in any one of four venues: the high-level walkways, the Victorian Steam Engine Rooms, the Bridgemaster's Dining Room and the North Tower Lounge
Confusion
Famously, many visitors to London, and particularly those from the United States, are prone to confuse the city's London Bridge with the Tower Bridge, often visiting the former and wondering why it looks nothing like the latter. It is popularly believed that Robert McCulloch meant to buy Tower Bridge when he had the old London Bridge relocated from London to Lake Havasu City, Arizona. The single cover and promo video of pop singer Fergie's racy single "London Bridge" features Tower Bridge rather than the one in its title.
Near Misses
In 1912, aviator Frank McLean was forced in an emergency to fly his small bi-plane between the bascule roadway and the high-level walkway. In 1952, a London bus had to make a leap from one bascule to the other as the Bridge began to be raised owing to operator error. Visiting U.S. President Bill Clinton's motorcade was forced to split in two in 1997 owing to the lifting of the bridge bascules.
Oddities
On the Bridge's website www.towerbridge.co.uk, traffic can be viewed on a real-time webcam. The website also provides a schedule for bridge liftings for the coming months. The Legoland theme park at Windsor has a large model of Tower Bridge built completely of Lego bricks, along with models of a number of other London landmarks.