George Washington wasn't too far off the mark when, traveling through the Bahamas in the 1760s, he referred to the area as the "Isles of Perpetual June." This is largely because of the moderate and pleasant climate typical of the 100,000 square miles of land and sea known as the Bahamas. The weather does vary a bit, though, so be prepared for changes if you visit during the months of October, November and December.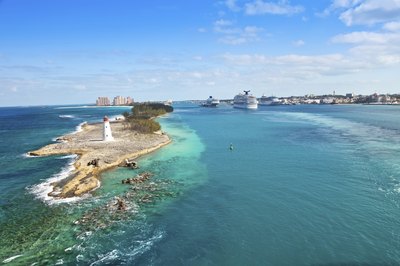 Temperatures
October through December can be one of the most pleasant times of year in the Bahamas. Temperatures average 78 degrees Fahrenheit in October, cooling to an average of 75 degrees in November and 70 throughout December. Evenings and early mornings are a bit cooler, however, temperatures rarely fall below 60 degrees.
There are only two seasons in the Bahamas: summer and winter. October is considered the last summer month while November and December are the first two months of the winter season.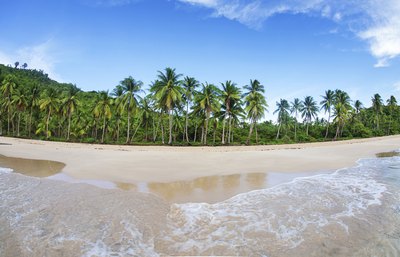 Humidity
While humidity levels in the Bahamas can be higher than most travelers are accustomed to, they do not vary significantly throughout the year. October typically is the most humid month of the year, with humidity levels averaging 68 percent, as compared to a yearly low of 61 percent. November and December are slightly less humid, averaging 62 percent and 66 percent, respectively.
Rainfall
Travelers who visit the Bahamas in October will experience the islands' most rainy month of the year. October averages 8.10 inches of rainfall as compared with 2.4 inches in November and 1.3 in December.
Rainfall in the Bahamas usually occurs in short, heavy showers that clear quickly. Islands in the Bahamas see an average of 310 sunny days per year, so it's unlikely for a vacation to be spoiled by rain, even in October.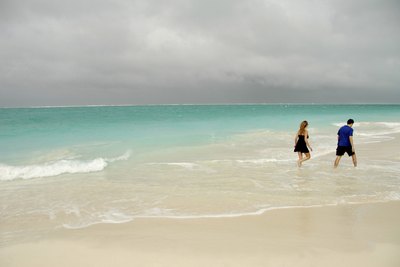 Hurricanes
The seemingly perfect climate of the Bahamas brings with it the possibility of hurricanes and tropical storms. Official hurricane season in the Bahamas lasts from June 1 through November 30, making October and November possible hurricane months. Hurricanes in the Bahamas are infrequent, and the US mainland is typically more affected by tropical storms than the Bahamas. However, it's always a good idea to check weather reports prior to your departure, as satellite forecasts can lend a significant amount of warning time.
Water Temperatures
Aside from sunshine and warm temperatures, an obvious draw to vacationing in the Bahamas is the water temperature, which stays warm even during the winter months. Ocean water temperatures in October through December range from 76 to 85 degrees Fahrenheit, making swimming and snorkeling ideal vacation activities.