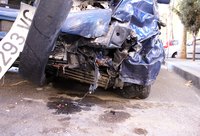 Under no-fault insurance, each party's respective insurance company pays for his damages regardless of who is at fault in a motor vehicle accident. In a no-fault state, you and your passengers seek reimbursement from your own insurance company even if the accident was caused by another driver. That driver also would be compensated by her insurance company. The companies then would settle reimbursement issues among themselves. Not every state requires no-fault auto insurance.
History
No-fault insurance was introduced in the 1970s with legislation granting individuals the right to seek medical cost reimbursements directly from their own insurance companies. Allen Insurance Financial Group, a nationwide brokerage, says the idea was to reduce the cost of litigation relating to injuries from auto accidents by preventing individuals from suing each other after a collision. The concept gained popularity and legislative momentum in the 1990s, according to US Insurance Online.
Pure No-Fault
According to Allen Financial Insurance Group, lawsuits are not permitted between drivers for medical costs under a pure no-fault system. You and your passengers are limited to your personal injury protection (PIP) policy coverage amount and your health insurance benefits when injured in an auto accident. You are not able to sue for additional medical expenses beyond those covered by insurance, even if someone else is responsible for your injuries. As of June 2010 there are no states that operate under a pure no-fault system.
Partial No-Fault
Allen Group says that partial no-fault states such as Florida, New York and Kentucky establish a threshold beyond which injured parties can sue each other. For example, if the threshold in your state is $50,000 and your injuries total $60,000, you can sue the responsible party for the $10,000 above what is covered by the insurance. Injuries below the threshold amount cannot be litigated. Each state sets its own threshold. The threshold can be strictly monetary or use different criteria such as number of days of disability.
Choice No-Fault
Some states such as Pennsylvania and New Jersey offer insurance choices to their residents. Both no-fault and traditional fault-based insurance is available for purchase. In no-fault policies, according to US Insurance Online, the state mandates a minimum coverage for the policy. If you have a no-fault policy in a state such as this you have limited ability to sue other drivers for your medical costs.
Traditional Insurance
Some states, such as California, Texas and Wyoming, do not offer no-fault insurance at all. According to Allen Group, in traditional insurance the insurance companies determine fault in each auto accident, and the responsible party is liable for all damages suffered by all parties, whether injury or property damage. You can typically sue for claims-related damages not covered by insurance.