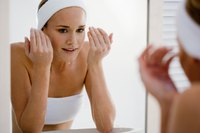 Eighty percent of people age 30 have experienced one or more outbreaks of acne. Hormones and genetics both contribute to this condition. When acne develops, many people seek out helpful products. One option offered on the market currently as an acne treatment is sandalwood soap. Sandalwood has a long history as part of a healer's kit, having been used for religious purposes in India as well. The effectiveness of the soap varies from person to person, often depending on skin type.
Washing Regimen With Sandalwood Soap
Wash your face twice daily with sandalwood soap, using lukewarm water and a gentle washcloth. Once before bed and once when you get up in the morning is sufficient. Rinse thoroughly and pat your face dry. Rubbing your face spreads the bacteria in the acne and may make the condition worse.Too much washing removes natural oils that condition the skin and keep it healthy. Additionally, repeated washing may irritate the acne.
Sandalwood Soap Basics
Historically, healers used sandalwood oil as an antiseptic and antimicrobial. The oil is often used in soaps and aromatherapy products. Putting the sandalwood oil in a soap base dilutes it, making is safer for use on the skin. Otherwise, it's very strong and potentially irritating. The aroma of sandalwood soap is sweet and woody. The scent has a long shelf life.
Properties
The sandalwood oil in sandalwood soap offers antibacterial action for treating acne. However, only essential sandalwood oil has that property; synthetic oils do not. Generally speaking, when applied in soap form, sandalwood reduces the redness and irritation of acne and works as an astringent. It also supports skin health as a tonic.
Warning
Some people find that sandalwood soap irritates their skin. Women who are pregnant or breast-feeding should not use sandalwood soap on acne. People with sensitivities may have allergic reactions to the scent. For those with sensitive skin, a small spot test should be done using the sandalwood soap to check for reactions before using it on the rest of the face.
Choosing Sandalwood Soap
Sandalwood oil is rapidly becoming expensive, so shop for soap wisely. Look for organic whenever possible and read the label to make sure the chosen sandalwood soap has essential, not synthetic, oil. Sandalwood soap combines well with rose or lavender skin-care products.