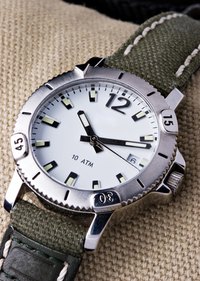 Automatic and hand-wound, or manual wind, mechanical wristwatches operate on the same principle as a hairspring mechanical movement that powers and regulates the watch. The automatic does not need winding if worn daily. The manual wind watch must be wound daily, although its power reserve can last up to 36 hours. Similarly, an automatic's power reserve can last from 36 up to 72 hours.
History
Mass-produced manual wind pocket watches have been in existence since the mid-19th century. The wristwatch appeared in the early 20th century. The automatic appeared around 1931, but wasn't used on a wide scale until the 1940s. The modern watch is either powered by an automatic mechanical movement or a battery-operated quartz movement. The quartz watch is electronic and needs no winding, according to Timeszone.com.
Automatic Features
The automatic watch is powered by the perpetual motion of the wearer's wrist. The movement contains a half-moon disc that rotates with each movement of the arm to keep the watch wound. It is no more accurate than a manual wind watch. And like the manual wind version, the automatic is less accurate than the quartz watch. A good running automatic or manual wind watch can lose or gain up to eight seconds a day. The quartz watch rarely gains or loses time. When quartz watches flooded the market in the 1970s, the automatic almost ceased to exist, but made a tremendous comeback in the 1990s as the desired mechanical watch.
Handwound Watches
Mass-produced handwound pocket and wrist-worn timepieces served the market for nearly 150 years before the advent of the quartz watch. Unlike the automatic, it never recovered from the buyers' conversion to quartz. Few manual wind mechanical watches are produced in the 21st century, but there is a huge market for vintage manual wind watches. Manual wind watches are less popular than automatics because they must be wound each day. The handwound also is perceived as archaic and labor intensive compared to its automatic and quartz competitors.
Pros and Cons
Automatics are easier to care for if worn daily. A daily worn automatic will need no winding or special attention. If an automatic is not worn daily, then it can be wound like a manual watch or placed on an automatic winder machine that simulates wrist movement to keep the automatic wound. The handwound watch needs daily attention to wind it. But many wearers enjoy only manual wind watches because they are generally vintage timepieces with a history, feature interesting dials and allow the owner to interact with it. Vintage watch owners often treat and study the history of their watches much the same way as vintage car collectors care for their old cars
Bottom Line
The attraction of mechanical watches is in the eye of the beholder. Owners recognize that it takes considerably more talent and precision workmanship to create an automatic and manual wind watch than a quartz version. Automatics are more accessible because they are still produced. Manual winds are just as accurate, but have a vintage pedigree that some owners find appealing