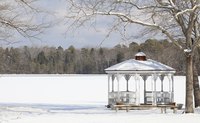 New Jersey is a relatively small state -- just 166 miles long and 65 miles wide. But that doesn't mean this state's weather is uniform or unchanging. The Garden State is home to a wide array of weather conditions, from the snowy winters of the north to the mild beach weather along the coast.
Regional Weather
New Jersey has five different climate regions with different weather patterns. The northern region, which includes Morristown, Mount Salem and Sussex County, is the coldest part of the state, with around 40 to 50 inches of snow per year. Cities like Newark, Trenton and Jersey City make up the heavily industrial central zone, and the factories and asphalt in this region cause generally warmer weather. The pine barrens zone, which includes Tuckerton, Chatsworth and the Mullica River, is generally cooler and drier, making this area vulnerable to forest fires. The southwest zone, including the towns of Salem and Camden, experiences high humidity, and has the highest average daily and nighttime temperatures than the nearby pine barrens area. Finally, the coastal zone, home to Asbury Park, Atlantic City and Cape May, is also home to sea breezes and nor'easters, and the Atlantic Ocean's proximity means temperature fluctuations are generally more gradual in this area of the state.
Average Weather
New Jersey's weather is generally moderate, with four distinct seasons. Springtime mean temperatures range from 40 to 60 degrees, while fall mean temps are around 44 to 65. In the summer, mean temps across the state stay around 69 to 72 degrees, though there are occasional heat waves, and areas near the beach enjoy slightly cooler daytime temps, and a tad warmer thermometer readings after sunset. Winter mean temperatures are 30 to 35 degrees, and the northwest area is usually colder. In 2013-2014, New Jersey received an average of 53 inches of snow, though the total snowfall varied by region, from around 51 inches in Ocean County to as much as 77 inches in Northern Sussex County. Precipitation averages about 45 inches a year.
Extreme Weather
Along New Jersey's coast, tropical storms, nor'easters and hurricanes are a concern. High tide in these areas can cause severe damage, especially during extreme weather events. In 2012, Superstorm Sandy ravaged New Jersey's coastline, killing 34 people in the state and leaving nearly 3 million residents without power. At the time, Gov. Chris Christie estimated the damage caused by the storm at $36.8 billion.
Cimate Change
Like on many areas of the world, climate change has had an effect on New Jersey in recent years, and that is predicted to increase. The Rutgers Climate Institute notes that in 2012, New Jersey's average statewide temperature was the highest in over 100 years of record keeping. Precipitation has also increased, and sea levels continue to rise. The National Conference of State Legislatures' 2008 report states that climate change will cause more severe storms, flooding and beach erosion, putting New Jersey's tourism industry in jeopardy.