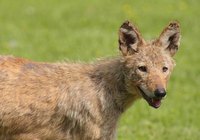 The state of South Dakota classifies coyotes in the "predator/varmint/fur-bearer" category and also places few restrictions on hunting them. If you are a coyote hunter, South Dakota provides a variety of opportunities to enjoy the sport.
Seasons/Restrictions
You can hunt coyotes in South Dakota year-round. South Dakota has an open season, with no limits. You are allowed to use any legal caliber of rifle or handgun, and you can hunt coyotes at all hours of the day and night. At night, however, you must hunt by natural light. Artificial lights are not allowed.
Licensing
South Dakota residents age 16 and over are required to have a license to hunt coyotes. Residents must have a resident hunting license, a predator/varmint license or a fur-bearer license. South Dakota also issues licenses to nonresidents for coyote hunting. If you are not a South Dakota resident, you need a predator/varmint license or a general nonresident hunting license. You can purchase a license online on the state's Game, Fish and Parks website. Use the "Hunting Licenses" link.
Hunting Areas
While coyotes are found in every habitat in South Dakota, the most popular hunting areas are the rough river breaks in the western part of the state, where coyote densities are greatest. Large tracts of public and private land are open to hunting in western South Dakota. The state's website recommends private lands in the drainages of the White, Bad, Cheyenne, Moreau and Grand Rivers, but you need to request the landowners' permission before you can hunt on their land. The South Dakota Game, Fish and Parks website also has maps of public hunting areas and walk-in areas on private land the state leases for public hunting. If you have a GPS unit, you can download the map information from the website to the GPS, or you can use the printable maps provided.
Restricted Areas
Before you hunt on any of the national grasslands in western South Dakota, check the current permit requirements and restrictions. You can access the information on the U. S. Forest Service website for grasslands. Three of the grasslands are managed from offices in Nebraska.
You can also hunt for coyotes on Native American tribal lands in South Dakota, but that requires getting a license from the respective tribal government. A state license does not entitle you to hunt on tribal land. However, if you obtain permission to hunt from a non-Indian landowner whose property lies within tribal lands, you still need a state license. South Dakota's Office of Tribal Governments maintains a list of contact information for the nine tribal governments, and the five largest tribes maintain websites with links to the department that issues hunting licenses.
Private Hunting Areas
You also can list yourself as a coyote volunteer on the Game, Fish and Parks Department website. Landowners seeking help in controlling the coyote population on their property use the site to find volunteer hunters. For other opportunities on private lands, try a private website, Ultimate Coyote Hunting, for a list of outfitters, guides and hunting spots.
Hunting Tips
You are most likely to find a coyote out and about when it is dark. During the day, coyotes usually move only when disturbed. Coyotes do not hibernate during the winter; the prime season for hunting them is from October to February. Many hunters lure coyotes within firearm range with an animal-in-distress call. Choose an elevated spot to watch for coyotes and use your call. After you shoot one, you are likely to lure more if you continue calling.
Disease
Coyotes can host plague-carrying fleas, and sylvatic plague has been detected on prairie dogs in some counties in South Dakota. Use the links on the Game, Fish and Parks website for current information on reports of plague.