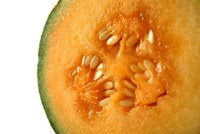 According to the non-profit George Mateljan Foundation's website,The World's Healthiest Foods, cantaloupe melon is well known for its low calories and antioxidants, which help prevent heart disease and cancer. In addition to the nutritional value contained in the fruit, cantaloupe seeds are not only edible but also just as beneficial as the fruit to one's health.
About Cantaloupe
Cantaloupe is classified as a muskmelon, which is a species of melon that includes a large range of cultivated varieties. Cantaloupe belongs to the sub-group that is identifiable by its orange flesh and netted interior where the seeds are found.
Nutrition in Melon Seeds
According to nutritionist George Rapitis, melon seeds in general contain nutrients such as protein, dietary fiber, vitamin E, magnesium, phosphorus and potassium. In a study conducted by Ege University that produced and analysed a melon seed beverage, the drink was found to be a significant source of magnesium, iron and protein. In another study published in the "World Applied Sciences Journal," a mixed orange-cantaloupe seed beverage was found to be a good source of potassium and phosphorus.
Benefits of Protein
The protein found in cantaloupe seeds helps maintain healthy hair and nails. Protein is also important for building enzymes and hormones that the body needs.
Benefits of Antioxidants
Like the fruit, cantaloupe seeds are a source of antioxidants such as vitamin C and vitamin E, verified by Health Ranger founder Mike Adams's HealingFoodReference.com. Antioxidants help reduce the likelihood of cancer and delay the onset of degenerative diseases that come with age. Antioxidants also help lower blood cholesterol.
Benefits of Minerals
Iron, magnesium, phosphorus and potassium are all minerals that are found in cantaloupe seeds and needed by the body for healthy functioning.
Iron helps produce red blood cells which keep the body well supplied with oxygen.
Magnesium helps maintain healthy nerve signals, bones and muscle contraction.
Phosphorus contributes to healthy bones and teeth and is also needed to maximize the benefits of calcium in the body.
Potassium helps lower high blood pressure by aiding the excretion of sodium.
Consumption
Cantaloupe seeds can be consumed raw, roasted or blended together with cantaloupe fruit.
Health risks
The rind of a cantaloupe can carry harmful bacteria, including salmonella, and therefore should always be thoroughly washed before being prepared for consumption.