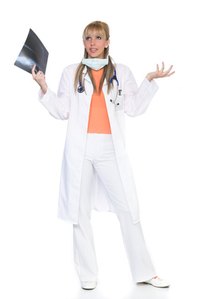 More than a third of newly hired nurses wanted to change their job, according to a study published in 2007 in the American Journal of Nursing that measured nurses' work attitude and intent to work. The study also noted that 13 percent of newly hired registered nurses had already changed jobs within a year. The Bernard Hodes Group polled 138 health care providers and learned that they experience a 14% overall turnover rate in their staff of registered nurses. The American Hospital Association estimates that 9% of its hospital nursing positions are vacant.
Significance
Although registered nurses represent the largest healthcare group in the U.S., with more than 2.6 million nurses, the nursing shortage will expand to 260,000 registered nurses by 2020, according to Peter Buerhaus, director for the Center for Interdisciplinary Health Workforce Studies in the Institute for Medicine and Public Health at the Vanderbilt University Medical Center. Buerhaus frames this issue as a workforce problem as well as a threat to patients' safety.
Not Enough Schools
The nursing schools cannot expand fast enough. Schools experienced only a 3.6 percent increase in enrollment in 2008 for entry-level baccalaureate nursing programs according, to the American Association of Colleges of Nursing. In contrast, the U.S. Department of Health and Human Services calls for a 90 percent increase in nursing graduates. It's not necessarily that there's a shortage of people who want to become nurses: Schools turned down 49,948 qualified applicants in 2008, according to American Association of Colleges of Nursing. The lack of instructors and facilities, as well as budget constraints, limit the flow of students into the schools.
Retiring Nurses
Retiring nurses has become the main driver for the increase in job vacancies, the Bernard Hodes Group reported to the American Association of Colleges of Nursing. The Hodes Group, an agency providing talent management services, ran an extensive study of the nursing industry called the Nursing Management Aging Workforce. The results indicate that the average age of nurses in 2012 will be 44.5, and 55 percent of the nurses plan to leave the profession by 2020.
Demographic Changes
The increase of patients visiting hospitals and physicians' offices reflects the aging U.S. population. The number U.S. citizens age 65 and older increases 8 percent per year, and the number will reach 54 million 2020, according to the University at Albany's Center for Health Studies. People older than 65 average three times more hospital discharges than younger people, according to the university.
Job Dissatisfaction
Employed nurses experience stress from work overload in understaffed hospitals. Dr. Buerhaus, from Vanderbilt University, stated that the nurses he interviewed blamed most of their stress on staffing shortages and 75 percent say being understaffed compromises the quality of patient care and the time that they can dedicate to each patient. Dr. Linda Aiken reported in the April 2010 Health Services Research publication that low mortality rates equate with a high number of nurses in medical and surgical units.
Recovery Plan of Action
If passed, the Nurse Education, Expansion and Development Act of 2009, or NEED Act, introduced by Sen. Richard Durbin of Illinois and championed by Rep. Nita Lowey of New York will award capitalization grants for nursing schools. In addition, states are passing legislation to direct funding to nursing schools. Financial aid goes to nurses pursuing graduate degrees with the intent to teach in nursing schools after graduation. For example, Colorado authorized the Nursing Teacher Loan Forgiveness Program. This initiative forgives $20,000 in student loan for a master's or doctorate in nursing in exchange of five years of teaching in a nursing school.