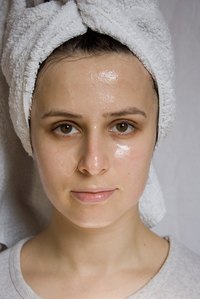 Although it is a popular choice for treating some dermatological conditions, benzoyl peroxide can have a negative impact on the skin, particularly if the skin is already damaged in some way. And a 1999 study indicated that this peroxide may have severe consequences.
The Facts
Benzoyl peroxide is an organic compound in the peroxide family. It can be found in over-the-counter as well as prescription-strength medicines and in pads, liquids, lotions, gels, creams and bars. The way benzoyl peroxide helps acne, however, is also the way it can damage your skin. It works by destroying oil and bacteria that builds on and underneath the skin. Because it cannot tell the difference between good bacteria and bad bacteria, it destroys the good bacteria as well, leaving nothing to fight off infection. The harshness of the peroxide also can damage the skin.
Benefits
The purpose of benzoyl peroxide is to clean the skin. It reduces, or eliminates, pimples, blackheads and other acne breakouts. According to Acne-Resource.org, benzoyl peroxide is an antiseptic. It is one of the top five treatments for acne because it reduces skin bacteria and yeast but doesn't cause a resistance to antibiotics.
Side Effects
Benzoyl peroxide can cause skin to become dry, flaky, red, swollen or painful. It also can cause itching, peeling or a burning sensation, and a skin moisturizer may be necessary to combat these symptoms. Benzoyl peroxide is also known to have a bleaching effect. It can discolor hair, clothing or furniture.
Expert Insight
There is debate about whether benzoyl peroxide causes an increased risk of cancer. As reported by the International Agency for Research on Cancer (IARC), a study found that single-use applications of benzoyl peroxide are not harmful, but additional applications can potentially be carcinogenic.
The study reads, "Two case-control studies have evaluated exposure to benzoyl peroxide among cases of malignant melanoma. One of these studies [the smallest] suggested a greater frequency of exposure among cases than controls." In other words, members of the group who received medicine containing benzoyl peroxide were more likely to get cancer.
The same results held true for animals. The study also says, "Benzoyl peroxide was tested in two studies by skin application in strains of mice … it induced benign and malignant skin tumors."
The conclusion of the study showed that there is limited evidence that benzoyl peroxide is carcinogenic in animals. While there is some evidence to suggest similar results in humans, there is not enough evidence for it to be considered cancer-causing in people.
Solutions
Some patients opt for salicylic acid, antibiotics, vitamin E, bentonite clay or tea tree oil to receive some of the same benefits of benzoyl peroxide without the harmful side effects, but you should consult a health care provider before discontinuing use of a prescription recommended by a physician.