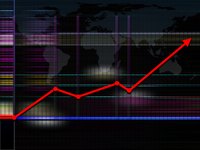 "Consolidation" means to unify multiple entities into one. Sometimes companies are combined to form a new corporation or one firm absorbs the other. The terms "acquisition" and "consolidation" have specific technical meanings and should not be conflated.
Corporations
Firms organized as corporations have their control and ownership distributed among the people owning their common stock. These owners share in profit and control in proportion to the fraction of outstanding shares they own. Control is imbued to stockholders via votes (one per share), and profits are transmitted with dividend payments (again imputed to each share of stock).
Statutory Merger
Corporations are owned by the shareholders and as legal persons can own property. Therefore, a corporation can own the stock of another publicly held firm. Additionally, because corporations are so adept at procuring capital, they can often procure a significant fraction of the outstanding stock of other corporations, unlike private individuals whose share of corporate ownership is typically minuscule. Should a corporation possess a significant enough proportion of outstanding shares, it can force a vote for merger. If the vote passes, the acquiring company will take control of all assets and liabilities of the subject company, which then ceases to exist.
Consolidation
As in statutory merger, consolidation merges two companies into one. However, unlike a merger, both companies cease to exist at the completion of the process. All assets and liabilities of the firms are integrated into a new corporate entity. The inception of the new corporate entity may involve continuation of certain operations, like manufacturing a certain product or continuing a pension plan for employees of one of the two firms. However, for legal purposes, the post-consolidation firm is a new corporation.
Advantages
Consolidation is undertaken for various reasons. Some firms combine with suppliers or distributors to control more aspects of the process of converting raw materials into a finished and delivered product. This process is called "vertical integration." Other times, firms consolidate rather than continue to complete with one another. Economies of scale can also be captured by combining small companies into a single larger producer.
Criticisms
Mergers and acquisitions often allow a product superior in quality and price to be delivered to the public. However, some economists argue that when too much market share accumulates in one producer, the company becomes complacent and innovation stagnates. Also, the efficiency cited as a positive feature of consolidation often flows from eliminating redundancy. The redundant workers end up unemployed. There are also concerns that the accumulation of wealth in fewer companies will give them both the means and incentive to exercise unfair political influence.