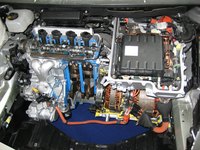 In automobiles, hybrid simply means that the car is capable of running off of two different fuel sources. Hybrid cars are a new generation of vehicles designed to run off of a rechargeable battery in conjunction with a gasoline engine. A combination of high fuel prices and a raising environmental consciousness have made hybrids gain popularity, and forced manufacturers to refine the science of these very interesting cars.
History
The first hybrid power unit was produced by Ferdinand Porsche, founder of the Porshe company, in 1900. It was deigned to go in a coach made by the Hofwagenfabrik Ludwig Lohner & Co., a coachmaking company in Vienna. The first hybrid car, which he called a Semper Vivus or "always alive," had a two-combustion engine, with an electric motor hub designed to store energy in a battery. The "mixte" model was manufactured and released in 1902, and is considered the first fully functioning hybrid car.
Commercialization
Though this technology was almost immediately applied to planes, trains and watercraft, it took nearly a century for it to reach the automobile market. The first hybrid car sold commercially did not hit the market until 1997, when Toyota began selling the Prius. Since the Prius began selling in the United States almost every major car manufacturer has followed suit and either released a hybrid car or released a prototype and expected production schedule for a new hybrid line.
Function
A hybrid engine uses both electricity and fuel injection in order to make the car more efficient. When a hybrid car is increasing its speed it uses the gas engine to power the car's acceleration; when the car is coasting, idling or stopped, it automatically switches to the battery for power. Some models also use battery power to run the car at low speeds, and to assist the gas engine when going uphill or passing. Each car design uses the hybridized power slightly differently. All hybrid cars are designed to lower the vehicle's fuel emissions and conserve valuable fuel.
Benefits
Hybrid cars emit up to 90 percent less toxic pollutants than their gas-only equivalents. As a result of the same efficiencies that make this reduction in waste possible, some hybrid cars get up to 50 to 60 miles per gallon, three times more than most gas-only cars in their class. Hybrid cars also emit significantly less engine noise than conventional cars. The power system is extremely low maintenance as well, in most cases recharging naturally as the car runs.
Incentives
Driving a standard SUV costs 10 cents a mile depending on the price of gas; a conventional car costs 8 cents per mile. A hybrid car, in contrast costs an average of 3 cents per mile. If the fuel savings are not incentive enough to buy the hybrid, both car makers and the United States government have been working to sweeten the deal. Since 2005, the United States government has offered a tax write-off that can be as much as $5,000. Also, to offset the expensive repair cost on hybrid cars, most manufacturers offer at least a five-year warranty, and many of the cars' individual parts come with lifetime warranties. Hybrid cars depreciate at a rate significantly lower than conventional cars, in part because the demand for used hybrids is extremely high.