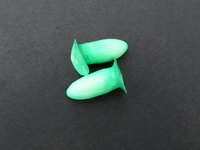 Ear plugs are common hearing devices designed to protect your hearing from loud sounds. Ear plugs can be used in a wide variety of situations, such as when you have trouble concentrating due to excessive noise or at home for a good night sleep. Although ear plugs can offer protection and comfort, they can also pose certain health risks when used inappropriately.
Instructions
Before putting on your ear plugs, webBikeWorld recommends that you wash your hands thoroughly with soap to minimize your risk of inserting bacteria into your ear. Next, roll and compress the earplug between your thumb and forefinger and insert it in your ear canal. With your other hand, reach behind your head and pull your ear to "open" your ear canal. When the ear plug is inserted, hold it in for a few seconds and allow it to assume your ear canal's shape.
Ear Plug Infections
According to Elliot H. Berger, Senior Scientist in Auditory Research on e-a-r.com, ear plugs can sometimes provoke ear infections since they increase the temperature and humidity of the ear canal and remove the protective coat of ear wax, which leads to skin irritation. Also, ear plugs allow microorganisms to enter your ear canal, which may cause you to develop an ear infection--also known as otitis externa. Symptoms of an ear infection include itching, pain, tenderness, greenish discharge and a feeling of fullness in the ear. In some cases, you may experience hearing loss if swelling and discharge are severe enough.
Considerations
Although wearing ear plugs may expose you to the risk of developing ear infections, protecting your ears against excessively loud noise is still important. Damage to the ear can result in Noise Induced Hearing Loss (NIHL), an irreversible form of hearing loss. This may happen if you are repeatedly exposed to loud music such as in a nightclub or to machinery in a workshop. Fortunately, ear plugs can protect your ears during those situations by reducing the number of decibels to which your ears are exposed and minimizing hearing loss over time.
Prevention
As explained on eardoc.info, finding a way to reduce the negative effects of high decibel levels and to protect your ear from ear infections can be difficult. However, there are several things you can do to prevent ear plug-induced infections. First, use disposable ear plugs to minimize the risk of bacteria entering your ear canal since you touch them only once before putting them on. While this solution might cost you more, it is safer than using reusable ear plugs on which dust and bacteria can accumulate.
Recommendations
Since using soiled ear plugs can lead to ear infections, using reusable ear plugs can pose greater infection risks, as do any hearing devices that are inserted into your ear canals. If you really want to use reusable ear plugs, washing them entirely and with soap, then letting them dry thoroughly before reusing them is essential to minimize your risk of infection. Also, putting your ear plugs in a small hygienic box for transport or storage may also keep them clean for a longer period of time. Nevertheless, it is important to follow the reusable ear plugs' instructions and to throw them away after the recommended time.