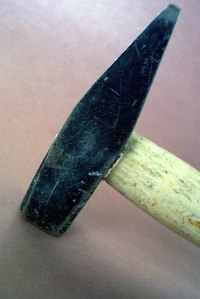 Workplace safety is the practice of an employer using preventative measures to prevent hazards to the employees' health and personal safety. This practice includes creating plans and procedures for employees and managers in the workplace. In addition, workplace safety involves creating policies and keeping emergency materials available for employee and manager use while at a work site.
Types
There are many different types of safe practices included in workplace safety. This includes providing a first aid kit for employee injuries, bright exit signs over entry and exit doors and a list of phone numbers posted near office or facility telephones. Books with emergency information are also among the ways an employer can help facilitate a safe workplace.
Training
Workplace safety in many businesses requires additional training for the employees and management. This can include a lecture by an expert, hand-on training or a tour of the grounds and materials. For example, an employee whose job requires the use of a machine is not only trained to use the machine, but he is typically trained on how to operate machinery to avoid injury, dismemberment or death. The employee can also be trained on what to do if a co-worker injures herself on the job.
History
Workplace safety has caused strikes, contract negotiations and concerns among the different labor unions.These groups have negotiated union contracts and initiated lawsuits on behalf of workers who have an unsafe workplace. The Union Auto Workers created "Workers' Memorial Day" as a day to honor workers who are killed on the job in the United States. Manufacturing jobs are heavily mentioned on this day due to the dangers of operating machinery or equipment.
Geography
Workplace safety has different rules for different states and countries. For example, in the United States, companies must regulate the amount of chemical exposure an employee can have. In another country, that same type of plant may allow a higher level of exposure to its workers. In terms of safety, the number of workers who die in the workplace is lower in the United States than some other countries, including China. According to Safety News Alert, in the United States about 14 workers die per day compared to 228 per day in China.
Legal Issues
If a worker feels that he is in an unsafe environment, he can file a complaint with the United States Department of Labor. The department operates an occupational safety and health administration, also known as OSHA. A worker can file a complaint and request an investigation. He can also seek legal counsel if he feels his health has been affected by an unsafe work environment.