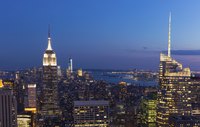 Iconic Rockefeller Center covers a multiblock area in midtown Manhattan. This is where you'll find New York City's most famous Christmas tree looming over the ice rink during the holidays, as well as NBC Studios, Radio City Music Hall and the Top of the Rock observation deck. The underground shops and eateries of the concourse at Rockefeller Center are also a big draw.
The Christmas Tree
The Christmas tree is arguably the most well-known attraction at Rockefeller Center, even though it only stands for the holiday season. During World War II there were actually three Christmas trees illuminated red, white and blue. In 1944, as part a wartime blackout, all three trees remained dark for the at-home war effort. It's free to see the tree; the ice skating rink below it charges a fee and the wait can be long.
The Art Work
Original art work is found throughout the common areas of the 22-acre complex. Much of it is historic, dating back to the opening of Rockefeller Center, which itself was declared a National Landmark in 1987. The murals, sculptures and engravings are done in the art deco motif, which was all the rage in the 1930s when the center opened. A running theme of human progress populates the works. An original Diego Rivera painting was replaced by the Rockefellers because of supposed communist imagery.
30 Rock
At 70 stories, the GE Building is the tallest structure and centerpiece of Rockefeller Center, crowned by the multilevel Top of the Rock observation deck. Nicknamed "30 Rock" after its address, 30 Rockefeller Plaza, the building is home to the NBC studios and many well-known shows such as "Saturday Night Live" and "The Tonight Show." NBC tours are offered daily.