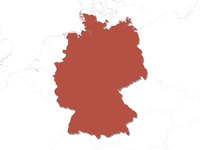 Both Germans and Americans share many common etiquette traits. For example, both place the fork on the left and the knife on the right in formal table settings. However, more so than Americans, Germans are noted for the meticulousness with which they approach etiquette. For a German, each flower has a specific meaning. When visiting Germany, it is wise to be aware of features characteristic of German etiquette.
Greetings
In Germany it is good etiquette to shake an individual's hand when you first meet him or her. Also, handshakes are important when conducting business, done when coming and going from a meeting. For informal greetings among friends, Germans will lightly kiss one another on both cheeks or the air next to the cheeks. Always refer to someone with a title before their name in a social setting. "Frau" is Ms. and "Herr" is Mr. and should be put in front of the name of the individual to whom you are referring.
Visiting
If you are invited to visit someone in Germany, it is important to take a small gift such as wine or candy. If you take wine, be sure to pick an imported beverage, as bringing a German wine might send a message to the host that he or she does not have good taste in wine. If you decide to take flowers, yellow roses are a good choice as, in conveying joy and friendship, they are a neutral flower. Red roses indicate romance, carnations symbolize mourning and lilies and chrysanthemums are used for funerals. Do not sit down in someone's house without being invited to sit first.
Table Manners
When eating in Germany, be sure to wait to be seated. When you sit down at a dining table it should be set up continental style with the fork on the left and the knife on the right. Use your knife sparingly and try to cut most items with your fork. Even rolls should be split with your hands. These are all considered gestures to the cook that the food is good. Remember to let the host lead. The host should be the first to put his napkin in his lap, to begin eating and to give the first toast.
Time
Being punctual is very important in Germany. It is considered very rude not to be on time. Showing up early is a good idea. Rushing around and arriving late will leave a bad impression.
Pride
Germans are a very organized people who appreciate structure in their daily lives. They plan out their day, and it is bad manners to interrupt schedules. They are also very particular about maintaining orderly homes. They place a high priority on cleanliness and take great pains to keep everything well groomed.