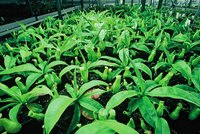 Phyto certification, or phytosanitary certification, is a government's stamp of approval on plants, stating that they are safe for import or export. The certification is not for the grower or shipper, but for the actual plants. Most countries, including the United States and Canada, require this certification before plants can be shipped or sold, and some states require certification of plants crossing state lines. In the U.S., an officer of the federal Department of Agriculture or a state department of agriculture issues the certificate.
Types of Federal Certification
There are three types of federal certification: Federal Phytosanitary Certification, Processed Plant Products Certificate, and Federal Re-Export Certificate. These are typically abbreviated as FPC, PPC and FRC.
Federal Phytosanitary Certification
An FPC is issued by the federal government according to the regulations of the International Plant Protection Convention to show that a shipment of plants or plant products is safe. Even though mushrooms are a fungi, they are still covered under phytosanitary certification. In order to receive an FPC, the plant or plant sample must originate in the United States, meet the importing country's regulations and be found free of pests and disease. It covers all plants, plant parts, or anything derived from plants, and the plant must be free of processing.
Processed Plant Products Certificate
A federal PPC is issued for plant products that have a history of sanitary concerns. The Importing country may still inspect, as a PPC doesn't certify plant health. All products under this certification must have originated in the United States.
Federal Re-Export Certificate
As its name implies, this is the one federal certificate that does not require that the product originate in the United States. Instead, an FRC is issued to show that plants or plant products that have been imported and are bound for a foreign market are free of disease and pests.
State Phytosanitary Certification
Many states also require phyto certification. Areas of interest are not only plant products originating in the state, but also seeds and even certifying that the fields to be planted are free of disease. For example, Idaho offers a State Phytosanitary Certificate, a State Field Inspection Certificate and a Seed Inspection Certificate.