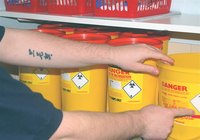 Regulated medical waste is a term used to classify certain waste materials that pose a danger of infection if disposed of improperly. There is no consensus among heath care professionals as to what materials fall under this category. There are separate federal and state regulations for medical waste, but all would agree on the potential danger of infectious materials.
Identification
According to the Healthcare Environmental Resource Center, the federal government does not require a standard definition for regulated medical waste. Individual state agencies have their own regulations and categories for medical waste. However, there are some general principles that apply. Regulated medical waste is specific to the heathcare industry and commonly includes waste that is biohazardous and poses significant risk of transmitting infection. According to the Practice Greenhealth website, efforts toward regulating medical waste emerged along with rising concerns about such communicable diseases as HIV and hepatitis B. The dangers presented by the improper disposal of syringes also led to the creation of this large regulatory category for medical waste.
Categories of Regulated Medical Waste
The Practice Greenhealth website breaks regulated medical waste into six categories. Liquid medical waste includes blood and blood products. Organs and body parts fall under pathological and anatomical waste tissues. Microbial waste comes from laboratories and mainly includes cultures and stocks of infectious agents. Contaminated animal carcasses, body parts and bedding is the category for biological materials that originate from test animals. The sharps category includes syringes, broken glass and needles. The broadest category is isolation waste—biological waste and materials contaminated with viruses or other pathogens. Such waste is isolated to protect others from highly communicable diseases.
What Is Not Regulated Medical Waste
Because there is no single definition of regulated medical waste, there are misconceptions about what it is and what it is not. The Healthcare Environmental Resource Center points out one common misconception involving solid waste. In some states, the term "saturated" refers to items contaminated with blood or other potentially infectious materials in a liquid or semi-liquid state. This interpretation would put just about any medical product that comes in contact with blood and body fluid in the category of regulated medical waste. Some states hold a loose interpretation of the word "saturated" and allow certain items to fall under basic solid waste.
Individual Regulations
Although there is no single agency that covers regulated medical waste, there are individual federal and state mandates for the treatment, storage and disposal of that waste. On the federal level, the Environmental Protection Agency enforces the Federal Insecticide, Fungicide and Rodenticide Act as it pertains to the handling of medical waste. According to the Healthcare Environmental Resource Center, most states have their own regulations that cover the packaging, storage and transportation of regulated medical waste. Those states may require health care facilities to obtain permits for their waste and develop contingency plans for accidental contamination or exposure.
Reducing Regulated Medical Waste
A healthcare facility may significantly reduce its environmental strain and economic costs by reducing the amount of regulated medical waste it produces. Practice Greenhealth reports that numerous hospitals in the United States have already reduced their regulated medical waste to less than 15 percent of total waste volume. This is mainly achieved through proper identification of regulated medical waste and by keeping solid waste from entering the regulated waste stream. The Centers for Disease Control estimates that only 3 percent to 5 percent of hospital waste should be disposed of as regulated medical waste.