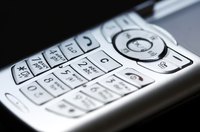 Most business meetings are events that are essential for company communications and management. Some serve as platforms to gain approval for new initiatives, while others are creative or informative. The meeting's presenter and attendees should always follow proper business etiquette, no matter what type of meeting it is. Rudeness and interruptions take away from meeting outcomes and are what make people dread going to them.
Arrival
Meeting attendees should always arrive early or on time, according to the "Eleven Commandments For Business Meeting Etiquette." When punctuality is ignored, the meeting is either delayed or interrupted--both of which are disrespectful and rude to the other attendees. The meeting leader often needs to take role, and when attendees are tardy, it messes up the process. Well-organized meetings follow strict timed agendas, which are completely thrown off by latecomers.
Preparation
Always bring something to write with and write on, as well as the meeting agenda. The purpose of most meetings is to relay new information, and most people learn better when they take notes--not when they are interrupting others asking for an extra pen. Meeting presenters should test out computer connections, presentation slides and projectors in advance of the meeting. If the meeting includes participants on a conference call, then the meeting leader should initiate the call at least 10 minutes before the start time.
Presentations
During a presentation, attendees should remain silent and pay attention to the information being presented. Attendees may take notes and practice active listening during this time. If a person has a question, he should write it down and wait until the end of the presentation to bring it up, rather than interrupt the presenter.
Participation
At the end of a presentation, most meetings will open up for questions and discussions. Questions should be brief and succinct. Listen to what others have said beforehand and do not ask the same question. Wait for your turn to speak and do interrupt other people.
Cell Phones
It is rude to take a call or have your cell phone ringer or buzzer on during a meeting. According to the experts at the Microsoft Small Business Center, cell phones should not be used during interview or small one-on-one meetings with co-workers and subordinates either. If the cell phone device cannot be turned to silent (this means no loud vibrating either), then it should be left behind or turned off completely. Texting, sending emails or surfing mobile web applications during a meeting is unacceptable.