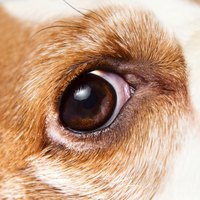 Eyelid tumors can afflict canines of any age, although they are more common in older pets. Most eyelid tumors are benign, but they can limit your dog's vision and cause other health issues. Malignant eyelid tumors, meanwhile, have the potential to spread cancer cells throughout your pet's body. Don't hesitate to schedule a vet visit to get a diagnosis if you notice an unusual bump or nodule on your dog's eyelid.
Meibomian Gland Adenoma
Meibomian gland adenoma is the most common type of eyelid tumor in domesticated dogs, accounting for over half of all reported cases. Found in both humans and animal, meibomian glands release a lubricating chemical over the eyes. These spherical tumors emerge along the inside of the eyelid. They start small but can grow continuously until removed. The adenoma may scrape the surface of your dog's eye, which creates painful ulcers and damages vision. Pets afflicted with these tumors may also have wet eyes or noticeable tear stains, as the abnormal growth prompts excess tear production.
Lid Melanoma
Lid melanomas are less common than benign tumors, but they are one of the most prevalent types of malignant eyelid growths in dogs. They can emerge directly from the eyelid tissue or from the margin between the eyeball and the lid. These tumors do have the potential to metastasize but are not considered as aggressive as melanomas of the mouth or skin, according to Veterinary Specialty Center of Tucson. Lid melanomas expand along the eyelid and are often pigmented. If you notice discolored tissue near your dog's eyes, you may be witnessing the beginning of a malignant growth.
Other Eyelid Growths
General skin tumors can also emerge on or near your dog's eyelids, obstructing vision and causing discomfort. Mast cell tumors, or mastocytoma, can grow close to the eyes, although they are often found elsewhere on the skin. These round tumors tend to protrude from the skin as discolored, hairless bulbs.
A dog can also develop wartlike growths called papillomas on the inside of his eyelids. They are usually found in the mouth, but can appear on any mucous membrane. These growths may be accompanied by itchiness, swelling and even bleeding if your dog has been scratching at it the area.
Diagnosis and Treatment
It's impossible to determine the nature and extent of a pet's eyelid tumor simply by looking at it. If you notice any usual growth, take your pet in for a checkup and a biopsy to identify the tumor. Most eyelid tumors are treated through a simple surgical procedure or by freezing the tissue. Smaller growths are much simpler and safer to remove than larger ones, so time is critical. While many tumors can be successfully and permanently cured through surgery, some cases of advanced malignant cancer may not respond to treatment. Talk to your veterinarian to determine the best form of treatment for you and your pet.