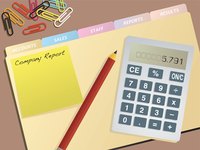 Accounting information is used by management to make decisions. Such information can be reports, including balance sheets, income statements and cash flows. Each of these standard reports present financial information in a different way. Accounting information can also involve analysis of data to give management a more focused view of the financial situation, facilitating the decision-making process.
Objectivity
Accounting information is seen as an objective view of a business. People may have ideas and feelings about certain items, but accounting is black and white. If a business shows a profit of $100, then it shows a profit of $100. There are no debates over that. It is "neutral" with no biased or vested interests. Accounting information doesn't come out of emotions or feelings, but out of business transactions. Decisions based on accounting information have solid backing, not hunches.
Reliability
In order for management to make decisions, they depend on documentation and real-life information. Accounting provides reliable, dependable information that people can compare, analyze and trust. Reliability in accounting information is a function of good checks and balances within an accounting department. It is easy to make mistakes, so reconciliations and other controls should be in place to minimize errors and to allow for corrections. The more reliable and accurate financial information is, the better the chances for management to make good decisions.
Interpretation
When presented with accounting information, management should be able to interpret and understand what it means. A manager should be able to easily see if he is looking at an expense versus budget or a cash flow report. Financial reports can be interpreted by paying attention to labels and descriptions. You should know if you are looking at cash transactions, budgets, trends, fixed costs versus variable costs or something else. The key is to understand information presented and to ask questions about certain items to assist in decision-making.
Timing
Timing is intrinsic to accounting reports. You see numbers as of a certain date or date range. A profit or a loss is as of a certain date; it could be for a month only or cumulative from the beginning of year to the end of October, for example. Whenever accounting information is presented, it is within a time context. Management may find it helpful to get reports showing more than one period, such as a report showing sales by month and also year-to- date. Accounting could also provide information comparing similar data for two or more years, allowing for decisions based on annual trends.
Considerations
When reviewing accounting information for making decisions, the following should be kept in mind:
Accounting information is not always correct. Errors can and do occur. If something doesn't seem right, ask about it.

Some important aspects of a business, such as employee morale, reputation, and environmental impact of operations are not picked up in accounting. When making decisions, management should consider other non-accounting data to get a broader view of a situation.

People looking at accounting information should have a basic understanding of accounting. Otherwise, they may not understand what they are looking at or may interpret it wrong.