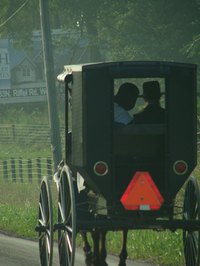 The Amish first came to Pennsylvania in the 1700s as part of William Penn's "Holy Experiment." Since then they have strived to live a simple life. The Amish live primarily in Pennsylvania, Ohio and Indiana area, including York County, PA. Their products--furniture, crafts and food--are known for their high quality items.
Markets at Shrewsbury
Enjoy free admission to this Amish Auction. Enjoy great deals on outdoor furniture, home decor items, and indoor Lancaster furniture made by over 40 Amish and Mennonite families. In addition, Amish vendors regualrly sell their crafts and furniture at The Markets at Shrewsbury.
Furniture
Amish made furniture is handcrafted and sturdy. Gish's Furniture has three locations in the Susquehanna Area, including one at 728 Loucks Road (US Rt. 30), in York. Their selections include dinig room sets, bedroom sets, and family room furniture. Country Lane Furniture in nearby Annville offers "Amish Country Living Furniture." Country Lane Gazebos sell Country Amish Gazebos as well as Amish Gazebo Kits.
Crafts
Amish are known for their hand made quality crafts. The Amish Gourd Farm offers various crafted items made out of gourds. The farm makes gourd birdhouses for specific birds. Their website states that specific birds need specific entrance holes and that is how their birdhouses are designed.
Food
The Amish often will sell their products to non-Amish vendors for sale at local shops and farmers' markets. At these markets they will provide cheese, meats, fresh produce, baked goods, candy and bulk foods. Traditional baked goods might include shoo-fly pies and whoopie pies. Bulk foods include jams and jellies.
Amish
The Amish are generally a private people. Visitors should ask before taking pictures that would show the Amish in an identifying manner as they believe that photographs steal their soul.