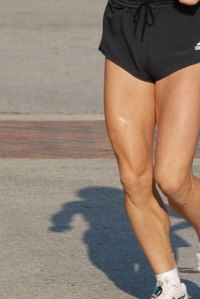 The leg consists of several bones, including the tibia, fibula, femur and patella . According to the Sports Injury Clinic, the tibia's role is for load bearing and the fibula's role is for muscle attachment. "Either of these bones can have stress fractures. The most common site however is two to three inches above the bony bit on the inside of the ankle (medial malleolus) on the tibia bone," stated the site. Also, trauma or injury to your leg can cause pain in your muscles or even your bones.
Definition
Tibia bone pain is defined as pain occurring in the tibia. The tibia is the larger bone in the leg, with the fibula being the smaller bone.
Symptoms
Symptoms of bone pain include not just the pain itself, but also swelling and tenderness. The pain can be described as sharp, dull, an aching feeling, acute or chronic.
Causes
There are several causes of leg and bone pain, including broken bone, a charley horse or muscle cramp, certain cancers such as breast, prostate or lung that has spread to the bones, osteomyelitis, leukemia, osteoporosis, dehydration, certain medications, muscle fatigue or strain from overuse, an injury such as a torn muscle, a hairline fracture, inflamed tendon, shin splints, pain when walking, deep vein thrombosis, arthritis, nerve damage and varicose veins.
Bone pain from an injury such as a broken bone or a stress fracture ) can be caused by numerous things, such as overloading the bone while running, a lot of small impacts on the bone, continuing to run even when the muscles are tired and a sudden change in running surface. Symptoms of a stress fracture include pain (usually on the lower third of the tibia), tenderness, swelling and pain when you press into the shin.
Exams and Tests
When you see a doctor for bone or leg pain, he or she may want to perform the following exams: a full physical exam and obtain a full medical history. The following tests may be performed as well: a complete blood count (CBC), bone X-rays including a bone scan, CT scan, MRI, homone levels, pituitary and adrenal gland function studies and a urine test (urinalysis).
Treatment
Home treatment includes rest, application of ice, elevation of the leg, gentle stretches, massaging the muscles and taking over-the-counter pain medications, like Motrin or Tylenol. If the cause is a broken tibia, then a cast and rest may be needed. Your doctor may prescribe antibiotics, anti-inflammatory medications, hormones, laxatives and pain relievers to help with the pain.
Medical treatment involves possible surgery to correct the broken or fractured bone, plaster casting, splinting, traction, rehabilitation and physiotherapy.