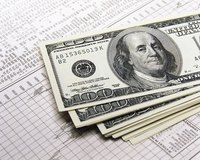 When an emergency expense crops up, sometimes you need a little help getting over the hurdle. Some turn to parents, other family members or friends; others prefer a less personal approach. Two options for extra money when it is needed are loans and advances. The option that is chosen will depend on a person's personal situation, the amount needed and the amount of time needed to repay the amount.
Advances
An advance is an amount of money that is loaned from future earnings. For example, if you get a $500 advance on your salary, you next paycheck will be decreased by $500 to repay the money you borrowed from that paycheck.
Advantages of an Advance
Most companies that offer advances to their employees do not charge interest, so it can be a safe and cheaper alternative to a payday loan or short-term bank loan.
Loan
A loan is an amount borrowed from a bank or other institution that loans money. Borrowers sign a promissory note that states the terms of the loan and the length of time for repayment. Loans usually require an amount of interest to be paid back with the loan.
Advantages of Loans
A loan can be borrowed and paid back in increments over a period of time. Because it can be paid back in smaller amounts, paying back the loan is less than a hardship that losing a large amount from one paycheck.
Advance v. Loan
Advances are generally interest free, but must be paid back, usually from the next paycheck. Loans will have origination fees and interest, but can be repaid over a longer length of time.