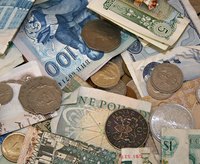 National treasuries build reserves of foreign exchange in order to participate within the global marketplace and transact official business. Foreign exchange reserves enable individual nations to coordinate trade policy and improve their domestic economy. Beyond economics, nations aspire to build foreign exchange reserves to wield political clout. Meanwhile, citizens monitor foreign exchange rates, alongside international trade balances, to determine whether politicians are properly managing the economy.
Identification
For liquidity purposes, foreign exchange reserves generally include large proportions of foreign banknotes and sovereign debt. Liquidity describes the ease of which an asset is converted into cash. International governments commonly hold U.S. Treasury debt as part of their foreign exchange reserves. Treasuries are benchmark assets for safety and liquidity.
Governments build foreign exchange reserves to fulfill financial obligations and make official payments to other countries. International official payments may be made to purchase real estate, acquire military equipment or repay foreign debt.
Features
Large foreign exchange reserves signal financial strength, which translates into political power internationally. Financial institutions, business enterprises and other government entities are more likely to negotiate deals on better terms with nations that demonstrate the ability to make timely payments. In terms of national defense, competing global powers are less likely to take aggressive military action toward economically strong countries--for fear of ruining a prospective international trading partner. Additionally, nations that build large foreign exchange reserves are able to supply impressive armies with the latest weapons technology.
Considerations
Government treasuries may effectively influence exchange rates through foreign exchange reserves. Large export economies, such as China, prefer lower exchange rates for domestic currency. Low exchange rates make exported goods cheaper for foreign buyers, which leads to increased sales. China regularly enters the foreign exchange market to sells its yuan and buy dollars as foreign exchange reserves. These transactions work to lower the yuan's exchange rate against the dollar.
Domestic consumers are adversely affected by low exchange rates. Low exchange rates for the home currency are inflationary because imported goods become more expensive. Treasury officials may then spend foreign exchange reserves to buy domestic currency and strengthen its value--when low exchange rates and inflation are concerns.
Strategy
Legislators often combine foreign exchange reserve transactions with international trade laws to manage the domestic economy. For example, politicians may propose import quotas and heavy taxes on foreign businesses to protect the domestic economy. Meanwhile, treasury officials may spend domestic currency to buy and build up large foreign exchange reserves. These transactions would reduce values for the home currency, and improve the export economy. Trade wars ensue when other countries take similar measures to reduce trade deficits, job losses and the flow of money outside of domestic borders.
Warning
National foreign exchange reserves do not earn high rates of return as investments, and may even lose value when currency rates shift unfavorably. Citizens may argue that money would be better spent upon domestic infrastructure projects that immediately create jobs.