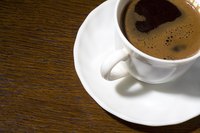 Regular coffee drinkers depend on a cup of coffee to start their day. As much as they enjoy those sips, the coffee may stain cause stains on normally pearly white teeth. A number of factors induce coffee stains while hygiene--like regular brushing and chewing sugar-free gum--limit further damage.
Salt
Tooth crystals are naturally white, like table salt. Staining teeth with coffee happens when the dark, chocolaty color sticks inside the salt.

Saliva
Without enough saliva production to rinse the mouth, the coffee color left in the teeth leaves a nasty brown or yellow stain. According to the American Dental Association, saliva is like a bloodstream to the mouth. Like blood for the body, saliva in the mouth builds and manages the healthy mouth, including teeth and gums. Saliva naturally removes waste products, rinsing the mouth from acquiring microbial invasions that cause staining.
Dehydration
Because coffee dehydrates, often the coffee drinker does not produce enough saliva in the mouth to naturally rinse off the coffee particles. Staying hydrated with water, and rinsing after drinking coffee, helps to keep the mouth from going dry.
Acid & Enamel
The coffee stain actually affects the tooth's enamel. Enamel is the hard substance covering the exposed portion of a tooth. Acids in foods and drinks attack the tooth's enamel surface. Because coffee is an acidic beverage, the coffee acid colors the enamel surface. Coffee is considered, according to American Dental Association, "bad" for teeth. However, maintaining daily levels of fluoride and keeping an eye on teeth coloring prevents us from having to stop drinking "bad" drinks.
Aging
According to a WebMD.com feature on teeth whitening, as we age the outer layer of tooth enamel wears away. The layer underneath enamel, called dentin, is yellower than the normal, pearly surface. Some regular coffee drinkers mistake coffee as the cause of their yellowish-looking teeth when it is, in fact, a normal aging process.

Hygiene
Poor hygiene can also cause coffee-stained teeth. Everyone should brush at least two times per day--in the morning and night--and ideally in the middle of the day, as well. To stop further staining, consider brushing your teeth after drinking coffee. The fluoride in toothpaste mineralizes enamel, strengthening it and halting stains. If this is impossible, drink water to rinse the mouth or chew a stick of gum to trigger saliva production.

Remedies
With daily brushing, coffee drinkers can decrease this yellow spell. Also, chewing gum triggers saliva, which rinses teeth. Swishing water in the mouth after drinking coffee helps stop potential staining by producing a saliva-like substance that washes microbes and dark particles from teeth. If you must try a teeth-whitening treatment, consult your dentist first. Some whitening treatments, according to WebMd.com, may cause teeth to turn blueish or damage them even further.