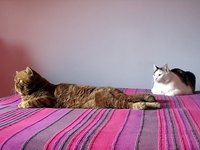 According to the Allergy Clinic, cats are more likely to provoke an allergic reaction in humans than any other animal. There are five different allergens that cats produce, but the most common is called the Fel d1. This can be found in the cat's saliva and its dandruff. Cat allergies can manifest in a variety of ways, ranging from mild sneezing to a more serious asthma attack.
Identification
The most common signs of a cat allergy are similar to hay fever symptoms. These include sneezing, wheezing and watery eyes. In more serious cases, exposure to cat allergens might provoke an asthma attack, which could make breathing difficult. Between 20 and 30 percent of people with allergy-related asthma experience a severe attack after coming into contact with a cat, said Johnathon M. Gelfand, MD in 2009. Other symptoms of allergic reactions include hives or a rash on the face or chest.
Time Frame
A cat allergy doesn't always provoke a reaction right away. Some people will present symptoms immediately, while others can have a delayed reaction, which can take up to 12 hours to manifest after exposure to the animal. If the cat lives in the same home as you, you might develop an allergic reaction due to repeated exposure. Fur and dandruff from the cat form part of the household dust. Therefore, the allergens might be present in everyday household items, including your clothes.
Significance
While most cat allergy symptoms are mild, some people might experience more serious reactions that can cause severe asthma attacks or hives and potentially require medical treatment. As the symptoms do not always present themselves immediately, it might be difficult to diagnose a cat allergy as the cause. Even if the cat is removed from the household, it can take up to six months for the allergens to disappear completely from materials like carpets and mattresses.
Causes
As Dr. Flemming Anderson explained in 2005, pet allergies are caused by certain proteins. When someone inhales or comes into physical contact with these proteins, the body might mistake them for harmful substances. In response, the immune system releases a chemical called histamine to break down these proteins, and it is this chemical that causes the symptoms of an allergic reaction.
Prevention/Solution
Cat allergies can be managed using medication. Antihistamines can be bought over the counter or through a doctor's prescription. Asthmatic reactions can be controlled using steroid sprays, such as Nasonex. While there is no single way to prevent an allergic reaction, there are steps you can take to minimize your contact with cats and lessen your symptoms. These include limiting your cat's movements to a certain part of the house and encouraging it to stay outside as much as possible. Cleaning your house thoroughly on a regular basis will also reduce the amount of allergens that are in the air.